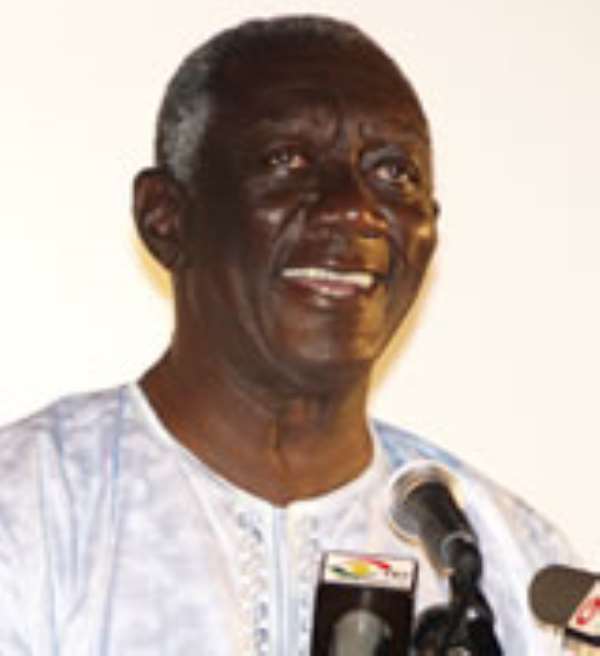 AU Chairman, President J.A. Kufuor welcomes Mr Moses Wetangula, Special Envoy from Kenya

President John Agyekum Kufuor, yesterday accepted the invitation of President Mwai Kibaki of Kenya, to visit that country as African Union (AU) Chairman, to see for himself at first hand the situation in the country.
President Kufuor said he would make the trip as soon as possible, adding that Kenya has always been a flagship of Africa's rising image and nothing should be done to destroy the country. This was contained in a press release signed by Mr Andrew Awuni, Press Secretary to the President and Presidential Spokesman indicated.
According to the statement, President Kufuor, indicated that, as AU Chairman, he is concerned about the situation in Kenya and willing to make his contribution to peace in that country. It pointed out that President Kibaki, said he was willing to dialogue without pre-condition with the opposition.
The statement said in a special message sent to President Kufuor, through the Special Envoy, Mr Moses Wetangula, President Kibaki said the situation in Kenya was returning to normal very quickly, except for small pockets of disturbances in the West of the country.
It said President Kibaki also expressed his commitment to forming government of National Unity for the sake of peace and tranquillity in Kenya.
The statement said, violence broke out in Kenya after the country's Presidential and Parliamentary Elections held on December 27 2007. It said reports say that about 300 people have died in the violence with thousands of people displaced.