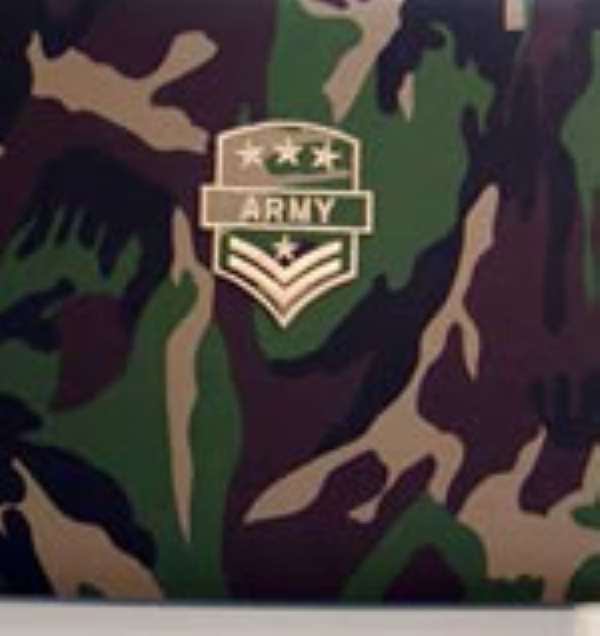 The police in Kumasi have mounted a search for a soldier who allegedly bolted in a taxi after attempting to murder the driver on the night of December 31, last year.
The soldier, identified as Kennedy Kofi Asuman, and stationed at Michel Camp in Tema was said to have hired the services of the taxi driver, Ato Kwamena Afedi, 27, a resident of South Suntreso in Kumasi, on December 31, 2007, but ended up stabbing him several times and bolting with his vehicle.
Asuman hired the taxi from Kumasi to Nkawkaw, where he allegedly lured the driver into the bush and stabbed him several times and abandoned him.
Thinking he was dead, Asuman bolted in the taxi, an Opel Astra, with registration number, AS 3342 Y, together with GH¢200 belonging to the victim.
After gaining consciousness, the victim managed to crawl to the roadside from where some good Samaritans sent him to the Nkawkaw Hospital and later got transferred to the Komfo Anokye Teaching Hospital (KATH) for further attention.
Ato told the Daily Graphic on his hospital bed that he had known Asuman as a childhood friend long before he (Asuman) joined the military.
He said he knew Asuman was stationed in Accra and occasionally met him anytime he was in town.
"On December 31, I met him in town and he asked me to meet him at the Officer's Mess in the evening. When. I got there, he told me his boss had asked him to go to Nkawkaw and collect some money from someone and that he wanted to go with me," Ato said.
Ato said he charged Asuman GH¢50 and they left Kumasi at about 7:30 p.m., reaching Nkawkaw at about 9:30 p.m.
"When we got there, he told me the person he was to take the money from had moved out of town, so we should follow up on him. We took a bush road and moved deep into the bush but at a point I told him I was not going further so he agreed that we stop the car for him to go for the money," Ato said.
"Whilst waiting I decided to call my wife to inform her that I had arrived safely at Nkawkaw, but while on the phone, Asuman attacked me unprovoked with a knife and stabbed me on the chest.
"I screamed, Kofi did you bring me here to kill me, which my wife later claimed she overheard on the phone and became frightened as the phone went dead afterwards," the victim indicated.
Ato asked Asuman if he had offended him in anyway to which he replied in the negative and said he just wanted to kill him.
According to Ato, he struggled with Asuman as he stabbed him several times on the body.
He stated that in the course of the struggle, he (Ato) managed to grab the knife from Asuman and threw it into the bush.
Asuman, he said, then laid his hands on a stick and knocked him heavily on the neck causing him to fall on the ground.
Ato further said that Asuman searched the bush and found the knife and attacked him again.
"From then on, I pretended I was dead so he left me to my fate but not without a last hit with the stick. He later used a flashlight to inspect my face after which he bolted in my taxi," Ato said.
Ato said he stayed in the bush for some time and later managed to crawl to the roadside from where a Good Samaritan found him and sent him to hospital.
When contacted, the Ashanti Regional Police confirmed the story and said the case was being investigated.