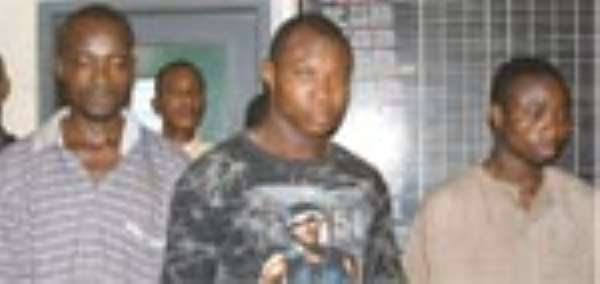 Masked gunmen on Thursday shot and killed two men at the Regimanuel Gray Estates, Lashibi, on the Spintex Road near Accra, in a suspected armed robbery attack.
The victims were Alhaji Hamid Mumuni, 50, a visually impaired who recently retired from VALCO and his brother-in-law, Dauda Mohammed, a student of the University of Development Studies (UDS) in Tamale who was on holidays.
According to family sources, the gunmen who struck around 10:30 am might have entered the house through the kitchen.
The robbers were said to have taken Dauda who was in the living room hostage and asked him to lead them to Alhaji Mumuni who was then in his room. Dauda was reported to have knocked on the door and when Alhaji Mumuni opened, he was immediately shot in the stomach with Dauda receiving bullets in the head. They died instantly.
A relative of the deceased persons, Halidu Abubakar told Joy Fm that the bodies have been sent to the Tema General Hospital for autopsy.
According to Abubakar, even though the family wanted to bury the two immediately according to Islamic rites, the police wanted the postmortem carried out.
The gunmen were reported to have made away with two mobile phones.
The neighbourhood had been thrown into mourning and apprehension, as Alhaji Mumuni was said to be a friendly person who lived a quiet life.
Meanwhile, the Sakumono Police have arrested a 20-year-old unemployed man, Bernard Kwame Annor, for possessing a locally manufactured pistol, a Ghana News Agency (GNA) report said.
Annor, who was riding an unregistered XT Yamaha motor bike with a colleague identified only as Paa Kwasi, who is on the run, was arrested after failing to heed a police signal to stop on New Year day at about 1930 hours.
A statement signed by Chief Inspector Yaw Nketia-Yeboah, Tema Regional Police Public Affairs Officer stated that the police chased the two at top speed till the fleeing motor bike hit an object resulting in an accident.
This attracted residents who assisted the police to apprehend Annor while Paa Kwasi escaped.
It said Annor, who was in possession of the unloaded locally manufactured gun at the time of the arrest, used the weapon to hit one of the residents who helped in the arrest.
Chief Inspector Nketia-Yeboah said Annor led a team of police personnel to the hideout of other criminals at America, a suburb of Ashaiman-Zenu, a day after his arrest.
He said items believed to be associated with various crimes retrieved from their room included another XT Yamaha motor bike with registration number GE 1165 V, two 'Blue King Max' generators and one helmet.
Other items were a Casio calculator, five Nokia, four Motorola, one ZTE and one Sagem mobile phones, one Olympus digital camera as well as seven mobile phone chargers.
The police called on robbery victims especially those residing at Lashibi and its environs to report to the Sakumono Police District Headquarters for identification and collection of the items.