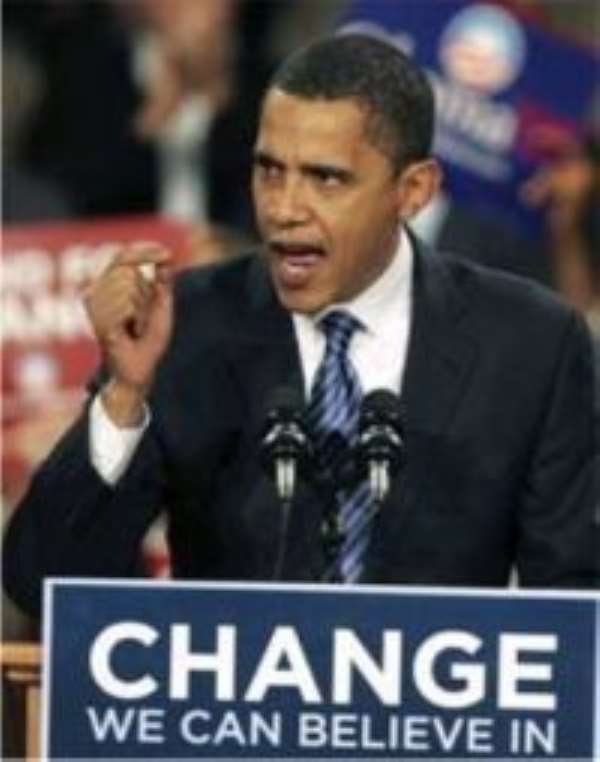 New Hampshire is where Iowa's Democratic caucus victors get ratified and where its Republican winners get stung. Democrat Barack Obama and Republican Mike Huckabee headed into the Granite State on Friday as Iowa's presidential champions, one hoping to ride history's trend and the other eager to break it. Neither can expect it to be easy.
Obama is neck and neck in New Hampshire polls with Hillary Rodham Clinton, who finished third in Iowa but has the resources to confront him head on.
Will Obama, like Al Gore in 2000 and John Kerry in 2004, use his Iowa victory to catapult himself to victory in New Hampshire? Or will Clinton manufacture a turnaround like her husband did in 1992 and be the new Comeback Kid?
Huckabee faces even bigger questions. He has hardly campaigned in New Hampshire where a Republican contest is already in a dead heat between Mitt Romney and John McCain. He enters the state with little money and little time to mount an adequate come-from-behind surge.
Iowa's results tightened the Democratic field — Sens. Joe Biden and Christopher Dodd dropped out shortly after the outcome was clear Thursday night. John Edwards mounted an energetic, populist campaign only to see himself repeat his 2004 second place finish in Iowa. He vowed to continue, but he trails Obama and Clinton in polls and in money.
For Republicans, Huckabee's victory served to keep their contest wide open. He beat Romney by nearly 9 percentage points, a setback for the former Massachusetts governor who now faces a reinvigorated McCain.
Fred Thompson was looking beyond New Hampshire to South Carolina. And Rudy Giuliani, fading in New Hampshire, was counting on Florida and big state contests on Feb. 5.
An unpredictable factor could be Republican Ron Paul, an anti-war congressman with libertarian views whose legions of volunteers have fanned out across New Hampshire waving placards and knocking on doors in support of their dark horse candidate. Paul has raised a surprising amount of money, further complicating the political calculations in the state.
In their victory speeches, Obama and Huckabee struck similar cords and distinguished themselves from their respective fields — portraying themselves as unifiers and change agents who didn't view the world in simply Republican and Democratic hues.
"You said the time has come to move beyond the bitterness and pettiness and anger that's consumed Washington," Obama told his raucous supporters. "To end the political strategy that's been all about division, and instead make it about addition. To build a coalition for change that stretches through red states and blue states. Because that's how we'll win in November, and that's how we'll finally meet the challenges that we face as a nation."
Huckabee, sounding some of the same economic populist themes that Democrats had often heard from Edwards, said Americans were eager for change.
"But what they want is a change that starts with a challenge to those of us who were given this sacred trust of office so that we recognize that what our challenge is to bring this country back together, to make Americans, once again, more proud to be Americans than just to be Democrats or Republicans," he said. "To be more concerned about being going up instead of just going to the left or to the right."
Money, a defining measure of candidate strength throughout 2007, turned out to be not so determinative in Iowa. Romney, a multimillionaire who pumped more than $17 million of his own money into the campaign by September, spent about $7 million on ads in Iowa to Huckabee's $1.4 million.
Likewise, Edwards remained in the mix with Obama and Clinton even though they broke all fundraising records last year. Obama spent $9 million in television ads in Iowa, Clinton spent $7 million and Edwards spent only $3 million.
Romney's and Clinton's inability to win was also a blow to much of the Democratic and Republican party establishment that had lined up behind both candidates.
But if money was only secondary in Iowa, it could still be a factor ahead. Romney could tap his wealth again to carry him through New Hampshire and Michigan thereafter. And with Obama and Clinton at the top, the Democratic contest appears to be dominated by two financial titans.
As Clinton campaign manager Patti Solis Doyle said after the results were in: "Our campaign was built for a marathon and we have the resources to run a national race in the weeks ahead."
Polls of Iowa voters as they entered the caucuses showed that Obama outpolled Clinton among women, and benefited from a surge in first-time caucus-goers and young voters in what was a record Democratic turnout. Similar enthusiasm in New Hampshire could again favor Obama.
Huckabee rode to victory on the strength of born-again or evangelical Christians, who comprised six in 10 Republican caucus-goers. But New Hampshire's Republican electorate is less overtly religious and more fiscally conservative. Even so, Huckabee has a penchant for retail politics and offers a message that is not singularly religious in tone.
"The thing you can say about Mike Huckabee is that he has a very different coalition," said Charlie Arlinghaus, a longtime New Hampshire GOP strategist and senior adviser to Thompson. "Giuliani's support comes from moderates and Romney's from conservatives. But Huckabee crosses a lot of lines — socially conservative and economically populist. That's why he was underestimated."
While Huckabee's victory over Romney heartened McCain, Obama's win could work against him under New Hampshire's wide open voting system. Obama is likely to attract many Democratic-leaning independents who might have voted for McCain if it appeared that Clinton had sewn up the Democratic contest.
"We now have competitive contests on both sides," said New Hampshire GOP Chairman Fergus Cullen. "That could be good news for Romney, who has been counting on this being a primary that is dominated by base Republicans." AP
By .