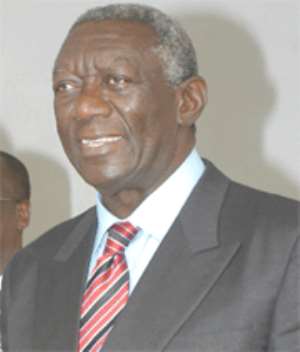 The Nuclear Power Committee headed by Professor Daniel Adzei-Bekoe on Thursday presented to the Government a roadmap for adopting nuclear power to generate electricity in the country by the year 2018.
In its Report, presented to President John Agyekum Kufuor at the Castle, Osu, the Committee said given political will and timely allocation of adequate resources, Ghana could even do this before the period.
Professor Adzei-Bekoe said the decision to acquire nuclear power technology would be a natural progression in the country's technological advancement.
The Ghana Atomic Energy Commission (GAEC) had already established some basic structures relevant to this programme.
President Kufuor set up the Committee to look into the possibility of expanding the country's electricity supply through the adoption of nuclear power technology in the heat of the energy crisis that hit the nation last year.
South Africa has the distinction of being the only country in Africa that generates energy through nuclear power plant.
Professor Adzei-Bekoe said the School of Nuclear and Allied Sciences established through the collaboration of the University of Ghana and GAEC could be used to support the requirements for capacity building.
The escalating price of petroleum makes coal and nuclear energy, the least cost options for electricity generation and therefore the obvious choices for expansion, he added.
He said as Ghana started exploiting its oilfields, it would be more economical to generate electricity by the least cost and environmentally friendly nuclear power option and use its oil for transportation.
President Kufuor thanked the Committee for a comprehensive and diligent job done and said the Government would give serious consideration to the Report.
The country, he said, needed to blend its energy sources. Exploring the possibility of using nuclear power for electricity would therefore not stop the push with the hydro electricity power and thermal power generation.
He said the vision was to make sure that by 2015, Ghana would have adequate energy sources for industrialization and domestic use.