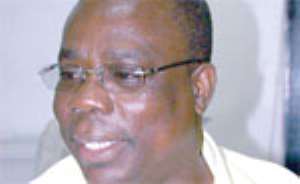 The Offinso South Constituency Chairman of the New Patriotic Party (NPP), Mr. Kwadwo Kusi Boakye has called on all supporters of the NPP to rally behind Nana Akufo-Addo, the flagbearer of the party irrespective of what happened during the campaign period.
According to him, the selection of Nana Akufo-Addo as flagbearer is meaningless if in January 2009, President Kufuor cannot hand over the mantle to him to continue with the massive infrastructural development that he has laid in the name of the party.
Mr. Boakye made the call during an end of year party he organised at Offinso recently to maintain unity among the party members after the historic NPP delegates' congress on December 22, 2007.
He said now that the efforts of the devil to divide the party have been thwarted, it behoves on him as chairman to ensure that all supporters of the party at the constituency come together and rally behind Nana Akufo-Addo to pave way for the party's victory in the impending 2008 election.
The Offinso South Constituency chairman said since this year's presidential election would not be an easy task, NPP faithful and sympathisers should remain focused and win more souls into the fold of the party.
This, he said, was the best way for the party to maintain power in the year 2009.
Mr. Boakye said as NPP has proven beyond all doubt that the party is politically matured and far ahead of all other political parties in the country, as evidenced at the just-ended congress, there is the need for members to indulge in a campaign void of all forms of vulgar language.
He said although NPP has shown that it is battle-ready for this year's presidential and parliamentary elections, members should be reminded that their opponents are already on the battlefield and not leaving anything to chance.
The NPP constituency secretary of Offinso South, Mr. Owusu Mensah on his part called on members of the party to pay their dues to ensure the successful campaign of the party this year.
According to him, members who fail to do so because they have no party cards should understand that regular paying of dues makes them automatic members.
25 people were given awards by the chairman for their unflinching
support to the party at the constituency level.From Stella Danso