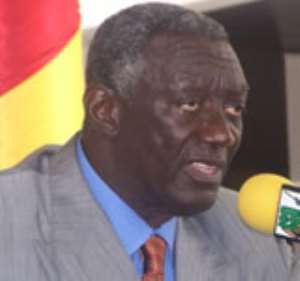 Listen to Oboshie Sai-Cofie speak to Joy News' Evans Mensah.
Information Minister Mrs. Oboshie Sai-Cofie has told Joy News that the death toll in the armed violence currently raging at Bawku in the Upper East Region could be higher than the four officially declared.
She said unconfirmed reports reaching her indicate that two more people have lost their lives in the conflict.
Oboshie, who spoke on Joy News' Newsnite programme, said President Kufuor, who had to reschedule his official Wednesday trip to Kenya where he is expected to mediate in an election dispute, is greatly upset by the development.
The President had to reschedule his planned flight to Thursday morning to enable him call an emergency meeting of his security chiefs.
The Information Minister says adequate measures, including the erection of barriers and check-points on all roads leading to and from Bawku have been instituted while security operatives have also been asked to enforce a ban on arms in the vicinity.
Two military helicopters and two armoured vehicles are patrolling the town.
Gunshots were heard in the Bawku township at midday on Wednesday inspite of the heavy presence of the police and military, however informants could not tell who was responsible for the shootings.
It was the fresh violence that forced President Kufuor to convene the emergency security meeting, but Oboshie told Joy News that all protocols have been completed to enable the president to travel to Kenya on Thursday morning.
A resident of the town, Bashiru Mohammed told Joy News that he counted as many as seven dead bodies, while another vehicle also carted an unknown number of corpses to the local hospital.
The Upper East Regional Security Council has been holding a marathon meeting over the security situation.
A dusk to dawn curfew imposed on Tuesday remains in force.
Indescriminate shooting between the Mamprusis and Kusasis has been raging since Monday over what commentators and opinion leaders in the area say is a chieftaincy dispute.