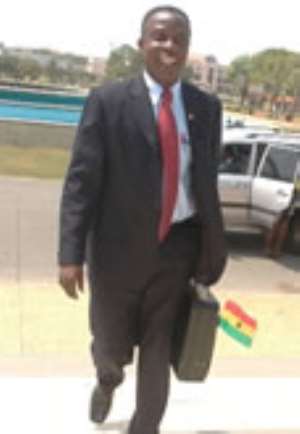 The Minister of Finance and Economic Planning, Mr Kwadwo Baah-Wiredu, has encouraged businesses, including small, medium and large scale, to consider listing on the Ghana Stock Exchange (GSE).

The minister who was speaking at the fourth Ashanti Business and Financial Services Excellence Awards in Kumasi said that listing on the GSE would enable the companies to raise more equity capital and expand their businesses.
The ceremony, which was organised by Top Brass Limited, an event organising firm, under the auspices of the Manhyia Palace, saw the presentation of awards in 13 categories in the business sector, and five categories in the financial services sector.

The minister stated that the government had created the right environment for businesses to thrive, and urged them to take advantage of the opportunity.
Mr Baah-Wiredu also challenged businesses to operate with the banks in order to secure their funds, and to also cultivate the habit of paying back loans they contracted from the lending institutions.
Touching on the proliferation of banks in the country, the minister said the situation was a clear manifestation of the good business climate in the country, adding, "What is even more exciting is that these banks operate in all the categories of the banking sector with different specialties."
He disclosed that credit support by the local banks to the private sector increased from GH¢542.1 million to GH¢1,348.5 million as of September, 2007.
Mr Baah-Wiredu also stressed the need for the business sector to consider entering into the productive sector of manufacturing and agro-processing, which has higher opportunities of job and wealth creation.
He cited soya bean and oil palm processing as a good business venture and gave the assurance that the government would support investments in those areas.
Stressing the importance of Ghana's entry into the global market as a sovereign borrower last year to raise $750 million, Mr Baah-Wiredu said the government had created new opportunities and challenges for the public and private sectors on the domestic and international financial markets.
He said as a result of the important regulatory services put in place by the government to facilitate businesses in Ghana, the World Bank's Doing Business Report over the last two years had ranked Ghana among the top 10 reformers globally out of 175 countries surveyed.
Mr Baah-Wiredu commended Otumfuo Osei Tutu II for encouraging the institution of the awards.
The Ashanti Regional Minister, Mr E.A. Owusu-Ansah, observed that the awards were a challenge to the business community in the region to explore the region's economic opportunities and maximise its contribution to the economic development of Ghana.
He stressed the need for the nurturing and motivation of young entrepreneurs in the region to enable them to offer their best.