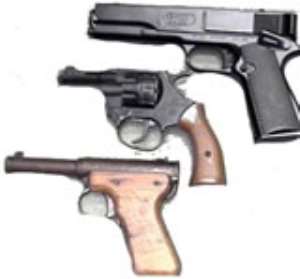 Personnel of the Border Patrol Unit (BPU) of the Ghana Immigration Service (GIS) have called on the government to expedite action on the review of the law establishing the GIS, especially the section on the use of arms by its staff.
They said being the first line of defence during an attack through the borders, and judging by the fact that the borders were not very secure, it was important that the BPU staff at the borders were made to carry arms to defend themselves and the nation.
They made the call in interviews with the Daily Graphic in Accra.
According to them, they had been offered training in the use of arms and had been waiting to be supplied with arms for some years now but no moves had been made by the government in that direction.
Some of the staff members stationed at Bawku said apart from the fact that dissidents could infiltrate the country the area was often unstable, adding that some of the residents had sophisticated weapons with which they fomented trouble.
Weapon-wielding GIS staff, they added, could assist the military and the police to keep the peace.
A consultant to the GIS Border Patrol, Major Agbeko Sedziafa (retd), told the Daily Graphic, in reaction to what the staff said, that although they had been trained in the use of weapons, issues such as the kind of weapons to carry were still being discussed.

He added that if immigration staff were to carry weapons, more armouries would have to be built, explaining that issues such as those were being looked into.
"The essence of immigration personnel carrying arms is not to make them fight but to act as a deterrent," he added.
Maj Sedziafa, a former officer of the Border Guard Unit of the Ghana Armed Forcea, lamented the dissolution of that unit many years ago, adding that if that unit had been sustained, there would not be any need to increase intake of immigration staff as well as train and arm them.
"It is our burning desire to have the BPU armed and we are exerting the necessary pressure. We are sure the government will act on it soon," he added.