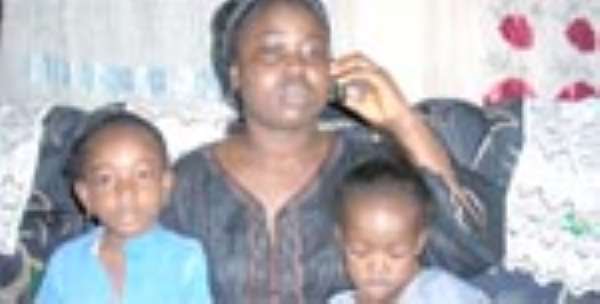 CECILIA AKOSUA Yeboah Boateng, the wife of the late Presiding Member of Asunafo North District Assembly, Anthony Yeboah Boateng, has told DAILY GUIDE that life has been difficult for her since the callous murder of her husband.
Cecilia, who is a temporary staff at the Agricultural Development Bank (ADB), pleaded with management of the bank to consider making her a permanent member of staff to enable her earn an appreciable salary in order to support her four children.
Cecilia, who could not hide her grief, said "Things have not been easy for me. I was so close with my husband and we did everything together. Since his death, I have been finding things very difficult but by the grace of God and pieces of advice from the family, friends and my priest, we are trying to cope with life."
Asked how her children were doing, the widow said they were doing well but was quick to add that "The two girls (Francisca, 5 and Georgina, 3), especially the younger one, have always been asking of their dad. I have been telling them that he has traveled."
She said she has been able to convince her elder children, Michael, 12 and Anthony 9, to accept Rev. Fr. Obeng Asuamah, whom they lived with in Kenyasi, as their dad even though they knew their biological father was dead.
When DAILY GUIDE asked how supportive the family of her husband has been, Cecilia, who almost broke down in tears, replied, "They have been emotionally supportive."
She noted further that most of them, including her mother-in-law, have been frequenting their home to check on how they are faring.
As early as 7am when this reporter got to her house, Cecilia was already preparing to go to work. She said she was undertaking a distance course in Diploma-in-Commerce with the University of Ghana, Legon, so her days begun very early.
Cecilia, who was joined by her mother and two of her sisters later, disclosed that as early as 5am, she and the family started their morning devotion which she used to do with her husband for about 15 minutes. She said she would then study for a while by which time her sisters would be preparing her two girls for school.
"By 7:30am, I'm at work. I close around 6pm but when there is so much to do at the office, sometimes, even 8pm, I will not be at home," she said.
: Have you ever visited the cemetery to lay a flower on your husband's grave?
WIDOW: No! I cannot go there. I can't. (She said amidst tears).
The widow wished that the killers of her husband would be punished severely to serve as a deterrent to others.
She told DAILY GUIDE that it was wrong for people to take the law into their own hands and lamented that despite her husband's plea and the proof in his documents, his assailants would not let go.
She asked rhetorically that even if her husband was a criminal, was the police station not the best place to have taken him to?
Cecilia advised that people should not destroy others and their families by acting on mere suspicions.
She described the death of her husband as a big blow not only to her and the children but to her husband's extended family as well, adding that he was the breadwinner.
She pleaded with corporate organizations, non-governmental organizations, government and the general public to donate generously into the endowment funds which were opened for her and the children.
She disclosed that the last time the committee in charge of the fund called her to a meeting, she was made aware that the fund had yielded about Gh¢4,500 and that the aim of the initiative was to care for the tertiary education of her wards.
She noted that because the fund was a long term investment, which they could not access now, she relied on her stipend and support from her husband's friends as well as her church to care for the immediate needs of the children.
It would be recalled that Yeboah Boateng was callously clubbed to death in the presence of his wife at Atronie near Sunyani on suspicion of being a serial murderer despite his plea that he was not.
Anthony, who was then transporting the corpse of the mother of his friend from the regional hospital at Sunyani to the Goaso hospital morgue, was lynched by a group of Atronie youth who had thronged the streets of the town to make merry and mark the Easter festivities on Sunday April 8, 2007.
Until his untimely death, Yeboah Boateng, who was the presiding member of the Asunafo North District Assembly, doubled as the Senior Hospital Administrator of the Goaso Government Hospital and was adjudged the best worker of that hospital in February, two months before his death.
Over 100 people, including the chief and the queenmother of the area, were arrested at different locations in connection with the murder.
According to the Prosecuting Officer, ASP Martin Dafeamekpor, the suspects would soon be committed to the High Court, while the police continue to investigate the whereabouts of those at large.
Persons, groups and organizations who would want to support the widow and children of the late Anthony Yeboah Boateng could do so by donating into the following account numbers, DATA Bank account number 000065499, account name Mrs. Cecilia Yeboah Boateng (ITF) children and Ghana Commercial Bank (GCB) account number 7071010040996 account name Yeboah Boateng Endowment Fund.
Sources close to the Attorney General's office in Sunyani said 12 out of the 30 suspects arrested for the alleged murder of Anthony Yeboah-Boateng have been recommended to be charged for murder at a high court.
The 12 are part of the 30 suspects initially charged before a Sunyani Magistrate's Court 'B' for the alleged murder of Mr. Yeboah-Boateng.
The source named the 12 as Stephen Donkor, Douglas Afriyie, Nana Kusi, Kwaku Agyeman Badu, Adama Hamidu, James Dankwah, Kwame Yeboah, Addae Akolo, Kwadwo Awuah, Kwame Anokye, Emmanuel Kwaku Lartey and Kwame Krah.
Fourteen other suspects involved in the murder are on the run and seriously being sought by the police for prosecution.
From Rocklyn Antonio, Goaso