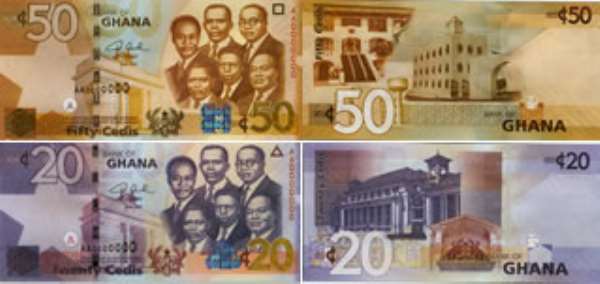 The Bank of Ghana says there is no deadline for the exchange of the old currency for the new, allaying fears in the public that the two cannot be exchanged after December 31, 2007.
According to Head of Research of the Central Bank, Dr. Ernest Addison, even though the old currency will cease to be legal tender after Deccember 31 2007, there is no deadline for exchanging the old currency for the new.

Though from January 1st, 2008, the old currency cannot be used, the Central Bank says the currency can be exchanged at all commercial banks, savings and loans companies as well as rural banks when the deadline elapses.

Media reports have indicated that ahead of the deadline for the withdrawal of legal backing for the old currency, some establishments have been are rejecting it, insisting that it is no longer legal tender.
But Dr. Addison told the Daily Guide that the old currency can be exchanged at any bank, be it commercial or rural.
The Bank of Ghana introduced the redenomination of the Ghana cedi in July this year giving a six-month grace period so as to allow the withdrawal of the old currency.