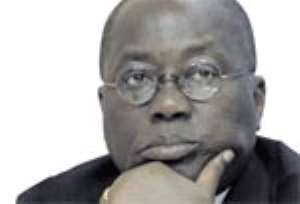 BARELY A week after the New Patriotic Party (NPP) had successfully picked its 2008 Presidential Candidate following a 'marathon congress' at the University of Ghana, names have popped up for consideration as possible running mate to partner the flagbearer.
While the party is putting in place structures and strategies to win the elections, DAILY GUIDE has learnt that the candidate, Nana Addo Dankwa Akufo-Addo, is also leaving no stone unturned to get the person he considers most suitable to be his running mate within the next couple of weeks.
Speculations are rife that the ruling party would settle on a northerner with a Muslim background, just as it did to win the 2000 and 2004 elections.
Muslim leaders in Kumasi put the cards on the table on Friday when the flagbearer paid a courtesy call on them as part of his nationwide 'thank you' and consultation trips after his election.
They advised him to pick a Muslim as his running mate so he could be assured of a convincing victory come December, 2008, and Nana Akufo-Addo, said he would give it a great deal of consideration.
Nana Akufo-Addo is meeting Ga Chiefs today after which he would go to the Agbogbloshie Market to interact with traders and market women, in what his spokesperson, Mustapha Hamid described as 'consultations with critical segments of society'. He has so far met Otumfuo Osei Tutu II, the Asantehene; Muslim leaders in Kumasi; and the National Chief Imam in Accra.
As the search goes on, four names that have so far appeared on the radar shockingly include Dr. Mohammed Ibn Chambas, President of the Economic Community of West African States (ECOWAS) Commission and former deputy Minister of Education during the National Democratic Congress (NDC) regime.
The rest are Alhaji Mustapha Ali Idris, Northern Regional Minister; Hajia Alima Mahama, Minister for Women and Children's Affairs and Oboshie Sai-Cofie, Minister of Information and National Orientation.
Apart from Chambas, all the others are NPP stalwarts whose track record, achievements and contributions to the party cannot be overlooked.
Chambas, 57, and one-time NDC MP for Bimbila Constituency in the Northern Region, is being considered due to his rich experience in international relations and skills in negotiations and conflict resolution.
Born on December 7, 1950, Dr. Ibn Chambas is a lawyer, diplomat, politician and academician who commands a lot of respect among a large number of Muslim leaders and has a huge reputation that cuts across nearly all ethnic divides in the country.

A former student leader, he attended Mfantsipim School, Cape Coast and Government Secondary School, Tamale. He holds degrees in Political Science from the University of Ghana, Legon, (B.A. 1973) and Cornell University Ithaca, New York (M.A. 1977, PhD (1980). He also has a law degree from Case Western Reserve University, Cleveland, Ohio.
He served as MP for Bimbilla between 1993 and 96 on the ticket of the National Democratic Congress (NDC) and was First Deputy Speaker of Parliament (1993-1994) when he was appointed Deputy Foreign Minister.
Between April 1997 and December 2000, he was the Deputy Minister of Education in charge of Tertiary Education.
His skills in negotiations and conflict resolution clearly manifested themselves in the manner in which he handled volatile student protests and industrial disputes involving university and polytechnic teachers and other staff members.
He was appointed President of the ECOWAS Commission by the Authority of African Heads of State and Government in Abuja, Nigeria, on June 14, 2006, when the sub-regional body was reformed.
Although no formal deal has been reached with the high profile running-mate hopefuls, speculations are rife that Chambas and Idris are the hot favourites.
Hajia Alima Mahama, a lawyer by profession, hails from Nalerigu. She is the MP for Nalerigu/Gambaga constituency and an old Girl of Wesley Girls High School, Cape Coast.
Hajia Mahama, Minister for Women and Children's Affairs, was born at Walewale in the Northern Region.
She entered the University of Ghana and successfully pursued a Bachelor of Arts (Hons) degree course in Law and Sociology between 1977 and 1980.
She enrolled at the Ghana Law School, Accra, in 1980 and qualified as a Barrister at Law in 1982. She studied at the Institute of Social Studies (ISS), The Hague, Netherlands between September 1985 and December 1986 and was awarded a Master of Arts degree in Development Studies with specialization in Regional Development Planning.
Between September 1990 and August 1991 she pursued a Post- Graduate Program in Development Administration and Management at the University of Ottawa. She also undertook Post-Graduate Studies and Institutional Attachments in Urban Policy Planning and Women Studies at Rutgers University and the State University of New Jersey, under the Hubert H. Humphrey Fellowship Program (August 1999 -July 2000).
Hajia Alima Mahama served as Deputy Minister for Local Government and Rural Development from May 2001 to April 2003. She was also the Deputy Minister for Trade and Industry from May 2003 to January 2005, before being appointed Minister of Women and Children's Affairs.
Alhaji Mustapha Ali Idris is a strong member of the party and a graduate of the University of Ghana.
He is a member of Vikings, old students of Mensah Sarbah Hall of the University.
He was Deputy Minister for Foreign Affairs at the inception of the NPP regime and later Minister for Works and Housing.
Alhaji Mustapha Ali Idris is a former MP for defunct Gukpegu-Sabongida in Tamale before three new constituencies were created. He later lost the Tamale South seat to Haruna Iddrisu, NDC Youth Organiser, and subsequently lost his ministerial portfolio after the 2004 polls.
He was recalled to the Northern Region as minister after last year's ministerial reshuffle. Prior to that he was Chairman of cash-soaked Ghana Education Trust Fund (GETFund)
Mrs Oboshie Sai-Cofie, whose name also came up, is a Ga from La and daughter of a prominent figure of the party, Prof Fred Torgbor Sai.
Mrs Sai-Cofie is a successful communications practitioner who put her expertise to the service of the party in 2000 elections with her firm, Media Touch, handling the party's advertising.
She held various positions in government, topping it up with the Information Minister portfolio.
By Bennett Akuaku