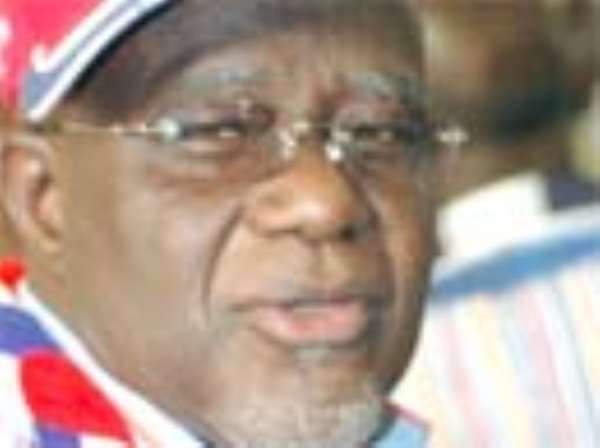 Hackman Owusu-Agyemang and Dr Kwame Addo-Kufuor have denied media reports that they are quitting politics after failing to secure the New Patriotic Party (NPP's) flagbearership slot.
The two were among 16 presidential aspirants that lost the slot to Nana Addo Dankwa Akufo-Addo at the recent NPP Congress.
Reacting to the reports separately, Hon Owusu-Agyemang, MP for New Juaben North, and Dr Addo-Kufuor, MP for Manhyia said they were still neck-deep in politics, pointing out that the issue of quitting politics was not at all under consideration, especially when they had pledged their support to Nana Addo Dankwa Akufo-Addo, winner of the 17-man race.
Speaking to DAILY GUIDE on Saturday, Hon Owusu-Agyemang who had 28 votes at the congress held at the University of Ghana, Legon, noted that he was looking forward to playing a bigger role in the next government of the NPP.
He explained that he could not prematurely abandon politics having invested his time and resources in the ruling party. "I'm not retiring from politics. I'm fully engaged in politics," he stressed.
The former Minister of Water Resources, Works and Housing indicated that he would join the Akufo-Addo campaign to ensure a resounding victory for the party.
He said quitting politics now would be tantamount to being a bad loser after pledging his support to Nana. "I'm not a bad loser," he said.
However, he was silent on his future as an MP, having represented New Juaben North Constituency three times, saying that he would not discuss the seat.
Dr Addo-Kufuor, speaking through his Campaign Manager, Owusu Afriyie, popularly called Sir John, was equally committed to Nana Akufo-Addo's victory in the 2008 polls.
He said media reports about his candidate's retirement from active politics were misleading, since Dr Addo-Kufuor was still an MP.
The former Defence Minister had told journalists about his possible retirement from politics after his abysmal performance in the NPP race.
Dr Addo-Kufuor could not believe his ears when it was announced that his high-profile campaign could earn him only 22 votes. "I'm surprised. I believe this is a fluke," he told journalists.
According to him, he had done a lot for the country, as well as the NPP and he deserved more credit than the 22 votes he received from the delegates.
"Addo-Kufuor deserves more than this," the MP for Manhyia and brother of the President had stated.
He said going back to medical practice may be his next line of action.
A former President of the Ghana Medical Association, Dr Kwame Addo-Kufuor entered the NPP flagbearership race with a solid record of achievements including his tenure as Defence Minister for close to seven years, until he resigned along with seven other ministers to pursue their presidential ambitions.
However, Sir John said quitting was not part of the plan, pointing out the former minister who was the oldest among the 17 aspirants, still had more years ahead.
He said the medical-doctor-turned-politician had already visited the NPP flagbearer in his house, pledging to support him in whatever way to win the election.
The Campaign Manager said what Dr Addo-Kufuor told journalists was options opened to him including going back to private medical practice and lecturing at the university after failing to secure the NPP slot and not necessarily quitting politics entirely.
He said the MP for Manhyia was looking up to a new challenge in Akufo-Addo's government.
However, Sir John was emphatic that Dr Addo-Kufuor would not contest the Manhyia parliamentary seat again.
He has been an MP for the constituency since 1997 when the NPP returned from boycott of the previous parliamentary election of1992.
Vice President Aliu Mahama had already indicated his desire to quit politics after the 2008 elections, to take care of his business.

"I want to have my cool, go into private life, you know. As I said, eight years is enough for me," the 61-year-old Vice President said.

A Civil Engineer by profession, Alhaji Mahama surprisingly emerged the running mate to then candidate John Agyekum Kufuor, when he was introduced to the party at its annual conference in Ho in 2000.
He has been Vice President since 2001 when the party captured power from the National Democratic Congress (NDC).
He said he would need time to decide on the type of business he
would engage in.By Fortune Alimi