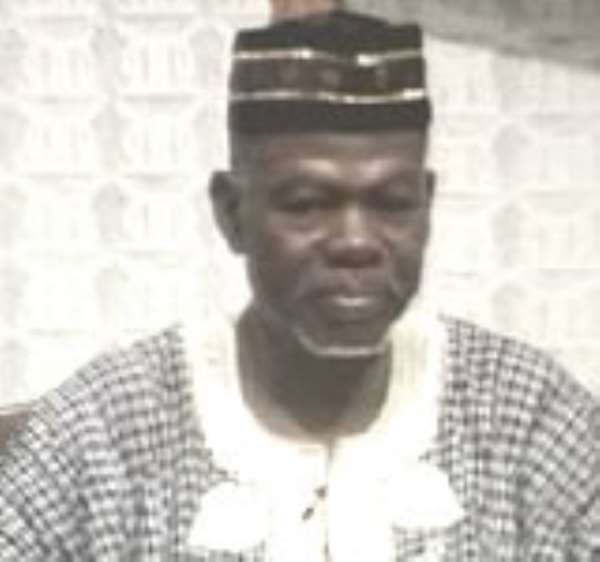 Dr Edward Nasigri Mahama, the Presidential candidate of the People's National Convention (PNC), has said Ghana needs a coalition government to defuse the New Patriotic Party (NPP) and the National Democratic Congress'(NDC) antagonism which is moving the country nowhere.
He has therefore predicted a coalition of ideologically similar parties coming together to form the government in January 2009 to pursue a national development agenda that goes beyond partisan political interest.
In an exclusive interview with the Daily Graphic in Accra at the weekend, Dr Mahama explained that "it is clear that none of the dominant political parties can win outright in the 2008 December elections without support from other political parties".

He argued that many countries, including Germany and Israel, survived by coalition governments and that was why at this critical and crucial stage of the country's development paradigm, it needed such a government to survive national and global challenges.

He said that PNC had neither permanent friends nor enemies, rather it had an interest in advancing the growth of the party and the socio-economic development of the country.
Dr Mahama said the PNC, which would be a force to reckon with in the formation of the government, was going to propose and implement national programmes that would directly benefit the masses of the People.
In this connection, he said the party was willing to work with like-minded political parties to galvanise actions and support for a rapid socio-economic growth.
He said Ghana needed to get to the point where its people could demand what was good for the nation and not their personal interest.

Dr Mahama said that the PNC was going to provide that kind of leadership which would provide the right working environment where each and everyone could reach for their full potential.

"When we do that, it is the nation that moves forward," he maintained.

On election 2008, Dr Mahama stated that the PNC had a strategy to broadly consolidate its political bag and focus on the Zongo communities and the three northern regions.
He said the PNC believed in working in the interest and well-being of the marginalised within society, and gave the assurance that the party would make a big difference in election 2008.

Dr Mahama wondered why a land of gold and oil could not have 60 percent of her national population living standards commensurating with the resources at her disposal, but gave the assurance that, "When we believe in ourselves, we can make it."
He said that he looked forward to debating all the presidential candidates on national issues at any level and at anywhere.
He said having lost three national elections, he was coming into the fray with rich experience in leadership, coupled with integrity, honesty and hard work to move the country forward.

Dr Mahama described himself as a selfless and dedicated person who would always work for the national interest and make the well-being of the individual Ghanaian his development priority.
On Election 2008, he cautioned that "anytime we have time for political change, it is worrying the manner politicians conduct themselves and their campaign activities".
He said that politics and political activity could be a spark to energise people into accelerated growth on one hand, and violence and chaos on the other.
He said when people saw that politicians were spending lavishly and living in opulence, they then begin to question where they got all that kind of money.
He said that it was worrying the manner the NPP conducted its presidential primaries and wondered "how much does a minister earn to enable them embark on such a massive campaign?"

"Thankfully, the PNC and Dr Mahama are around to focus on a campaign of issues to give hope to Ghanaians," he stated.
He said election year was a dangerous period for such a new democracy as Ghana, and called on the Electoral Commission (EC) to be more courageous and bold in executing its functions.
He wondered how come ROPAB was passed at a time the electoral system was largely funded by donor support.

"We cannot fund our electoral process and yet we want to add extra burden," he queried, and expressed with much surprise how concentration was on extending voting rights to Ghanaians living in the US and UK and not necessarily to Ghanaians living in the sub-region of Togo, Cote d'Ivoire, Benin and Nigeria.

He however maintained that the EC had so far performed creditably, but admitted that "it will certainly do better if it is financially lubricated".
Source: Daily Graphic