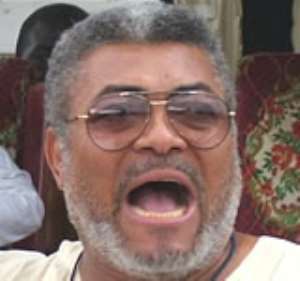 A group calling itself Youth for Leadership is launching a project today 31 December, 2007 to immortalise the name of the former president JJ Rawlings.
The group said it would come out with a historical project to honour and project the legacy of the former president as the longest serving leader, a living legend and a role model for future generations.
Speaking in an interview on JOY FM ahead of the launch, officials of the project said the initiative has been developed to "correct the misconception" about the former leader.
He said the group "believes a lot of our history has been twisted and the wrong history is being taught our youth…we know where we are coming from and we know this man is a legend."
The Youth for Leadership which claims to have ten branches at home and abroad said it chose December 31 to launch the project because of its significance to the Mr. Rawlings.
The launch of the project coincides with the 26th anniversary celebration of the former president's overthrow of Dr Hilla Limann, a constitutional and civilian government established through a popular vote to form the Third Republic.