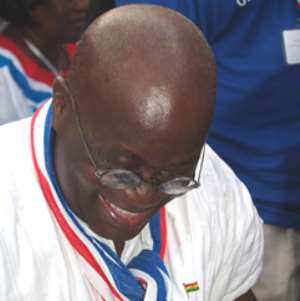 Otumfuo Osei Tutu II, Asantehene, has charged political leaders to always seek the welfare of the people in their endeavours.

He reminded them that, "leadership was all about service to mankind" and stressed that they should avoid self-centredness for the achievement of the nation's development goals.

Otumfuo Osei Tutu made the call when Nana Addo-Danquah Akufo-Addo, presidential candidate of the New Patriotic Party (NPP) paid a courtesy call on him at the Manhyia Palace in Kumasi on Thursday.

The presidential candidate was accompanied by Mr. Akenten Appiah-Menka, a member of the Council of Elders of the NPP and some leading members of the Party.

The Asantehene said political leaders and activists should resolve to promote unity among the people and strive to exhibit good governance devoid of antagonism, tribalism and favouritism.

He decried what, he said was attempts by some political activists to sow seeds of discord among Asantes and Akyems, pointing out that it was high time those activists refrained from such smear campaign.

"Asantes and Akyems are one people, so is myself and the Okyehene", Otumfuo Osei Tutu remarked and said for instance that both he and Okyehene belong to the Oyoko clan which makes it possible for them to fraternize as brothers of the same family.

He said traditional rulers were above partisan politics and that "under no circumstance should anybody draw them into political activities since that could tarnish their hard won reputation and progress of the chieftaincy institution.

Whilst commending Nana Akufo-Addo for his immense contributions to the political development of the nation, especially under the fourth republic, the Asantehene charged him to strive to involve the other losing 16 candidates in his activities to enable him to achieve his aims.

"The task ahead of you is enormous as you will be competing against some political giants like the National Democratic Congress (NDC), Convention People's Party (CPP), among others. The onus therefore lies on you to consult with the other losing candidates to patch up all differences and seek their support to enhance your campaign", Otumfuo Osei Tutu told the Presidential candidate.

Nana Akufo-Addo commended delegates of the NPP for giving him the mandate to lead the Party for the 2008 elections.

He promised to work within the confines of the United Party (UP) traditions and also uphold the ideologies of the NPP in his campaign.