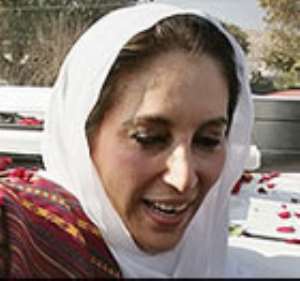 Pakistan's general election is "likely" to be postponed for several weeks in the wake of Benazir Bhutto's assassination, the ruling party says.
Tariq Azim of the ruling PML-Q party said the vote would lose credibility if held as planned on 8 January.
Pakistan has been swept by unrest since Ms Bhutto's death, and several parties have threatened to boycott the poll.
Ms Bhutto's party has begun a meeting to decide on her successor, where her political will is due to be read.
Members of the Pakistan People's Party (PPP) gathered at Ms Bhutto's family home in Naudero, in the district of Larkana, to discuss her intentions.
It is thought that her political will - to be read out by her 19-year-old son Bilawal - would name her preferred successor.
One report said that Bilawal and Ms Bhutto's husband, Asif Ali Zardari, had been made co-chairmen of the party.
Another possible contender is the party's long-time vice-chairman, Makhdoom Amin Fahim.
Campaign suspended
Thousands of Bhutto supporters surrounded the family home ahead of the meeting, venting their anger at the government of President Pervez Musharraf, which they blame for not doing enough to protect her.
Ms Bhutto's widower, Mr Zardari, told the crowd that "Benazir Bhutto sacrificed her life for Pakistan's survival and democracy. We will continue Bhutto's mission."
The party was also set to decide whether to contest or boycott the elections.
Mr Azim of the ruling party said a delay would allow the PPP more time to re-organise.
"It seems more than likely that elections will be delayed," he said.
He was quoted by the AFP news agency saying that his own party had suspended its campaigning "because of the prevailing situation".
"We do not have a climate in which we can canvass voters," he said.
He said the vote might be delayed for anything between six and 12 weeks.
Pakistan's election commission has called an emergency meeting for Monday, to decide whether the poll should be delayed.
A senior member of the Pakistan People's Party, Iqbal Haider, told the BBC that the vote should be postponed, echoing the view of another opposition leader, Nawaz Sharif.
Mr Sharif's party, which had previously advocated a boycott, said on Sunday that it might in fact participate if the PPP decided to do so.

Some opposition politicians have also complained that the interim government appointed by Mr Musharraf ahead of elections is too close to the president.
Imran Khan, leader of the Tehrik-i-Insaf party, said: "The elections should definitely be postponed, they should never be cancelled.
Troops have been deployed in several main cities after two days of rioting and looting left hundreds of shops and vehicles, along with several election offices, in ruins, while roads have been deserted and businesses shut.
At least 38 people have died in the unrest, the government has said.
There has been continued confusion over how Ms Bhutto died.
Pakistani television has released new pictures it said showed Ms Bhutto's attackers - a gunman and a suicide bomber - and others apparently showing Ms Bhutto was inside her car, and no longer standing through the sun roof, when the explosion happened.
The images perpetuated the dispute over Ms Bhutto's death.
Interior ministry spokesman Brig Javed Iqbal Cheema said on Friday that she was killed when the force of the bomb blast knocked her head against a sun roof fitting, and was not hit by bullets.
The PPP has insisted she was killed by two bullets, one of which pierced her skull and another which hit her in the neck.