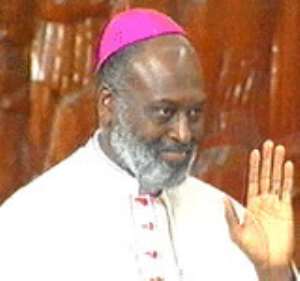 The Metropolitan Archbishop of Accra, the Most Rev Charles Gabriel Palmer-Buckle, has called on Ghanaians to focus more on children during the Christmas season and in the New Year, 2008.

He noted that children were the best gifts of God and so everything should be done in the coming years to help God to nurture the human race in our care.
Giving his New Year message to The Mirror, the Most Rev Palmer-Buckle said, "If Ghana is to enjoy God's favour, peace and blessings, then let us think of our children and focus on them the best of our time, treasures and talents in the years to come. Let us cherish them, let us protect them and invest our best in them, for our glorious future lies in the children of Mother Ghana. They hold the promise for a better Ghana after 50."

He said it was his prayer that as the country entered Ghana after 50, no child in the land would be hindered from fulfilling what project and
promise God had for it by the gift of life and by the message of His very incarnation as one of us in the Child Jesus.
He expressed concern about reports in newspapers of mothers abandoning their infants and disappearing.
"How many of our little children are now in slave labour, selliqg iced sachet water on the streets, breaking stones in quarries, working on cocoa farms and other crop plantations, even in the dungeons of mines and fishing in the depths of our seas and lakes. Some parents have been trafficking their own children for money and other material goods, There are also the horrible cases of child prostitution, child defilement and sexual abuse by adults. What is wrong with our human society of today, here in Ghana and elsewhere?" he queried.

Emphasising his point that children were God's gifts to humanity, the Most Rev Palmer-Buckle said Christmas was meant to tell us that God chose to become a child in order to make it clear to all of us that first and foremost a child was a gift of God and that in every child God is with us. He said every child was God's vote of confidence in humanity, adding that by allowing children to be born to people, God is saying; "I still believe in humanity that you can make the child, this project of mine blossom and unfold in all its promise and potential."
The Most Rev Palmer-Buckle said through the gifts of gold, frankincense
and myrrh which were presented to the infant Jesus, the three wise men were telling us that "we must invest in our children nothing but our best, namely, what is golden and excellent in our culture, what is of spiritual and divine essence in ourselves and what is our highest hope and dream for a better world. Only this way can our children be for us, indeed, Emmanuel, God with us now and for always".
Source: The Mirror