LeRoy laments Appiah loss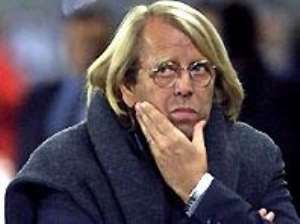 The Ghana football team is putting on a brave face in light of captain Stephen Appiah's injury. Ghana coach Claude LeRoy insists his team's Cup of Nations hopes have not been ruined by Appiah's injury blow.
The midfielder has been forced out of the tournament by a long-standing knee injury.
Appiah, who plays for Fenerbahce in Turkey, is now expected to be out of action for up to two months.
When contacted by BBC Sport, LeRoy put on a brave face while bemoaning the loss of his most important player, a player widely regarded as the heart and soul of the squad.
"Even without Stephen we'll try to do our best to win the competition. That's why I want him to join us for our training camp and if possible to be with us during the tournament as well. We will use him as a special adviser because he can bring a lot to the team even without playing," LeRoy said.
LeRoy admitted that a Black Stars team without Appiah is unlikely to have the likes of Morocco and Guinea tossing and turning in their beds.
"It's terrible news for all the Ghanaian people because it won't be the same team without him.
"It was difficult for me to sleep when I heard the news that he was out. It's a huge problem," LeRoy said.