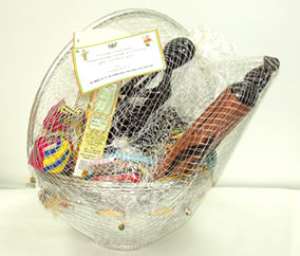 As if to say they are setting the pace for orientation of the Ghanaian, even when it comes to giving out hampers, the Ministry of Information and National Orientation has given a hamper full of Ghana made products to Joy FM.
The hamper, in a typical Bolga basket contains 'Takai' a local liquer, 'Nkatie' cake, sweets made of ground nuts, a calabash of spices, wood carving, an 'oware', real Ghanaian chocolates, 'Hausa koko', local porridge, 'Alata samina', local soap, and shea butter among and so on.
Some renowned gift shop owners who saw the hamper were impressed and they said, it is truly Ghanaian.
Many of our listeners of the Super Morning Show, were also impressed and they sent text messages as well to show it.