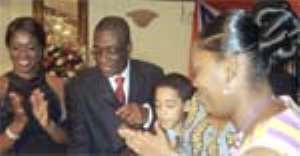 Insurance companies have been urged to diversify their business operations by venturing into the informal sector, which constitutes the majority of businesses in the country.
According to the Minister of Finance and Economic Planning, Kwadwo Baah-Wiredu, insurance companies should introduce different products by taking advantage of the huge population in the informal sector.
Most insurance companies are currently operating life and general business with the majority shying away from life business.
But the recent insurance law caused the separation of life business and non-life business, which according to some analysts would help the life business to grow and contribute effectively to national development by helping to mobilize long-term funds for development.
Speaking at the 20th Anniversary Awards and Dinner Dance of the Gemini Life Insurance Company (GLICO) over the weekend, Mr. Baah-Wiredu said in order to achieve the objective of the separation, the regulatory framework would be reviewed to enable insurance companies restructure their investment portfolios to reflect the current economic environments.
Additionally, there would be provisions to encourage insurance companies, especially life companies to invest in areas such as real estate and long-term mortgages.
The new insurance law aims among other things at ensuring adequate capitalization of insurance companies, improving corporate governance and ensuring adequate protection for policy holders.
Mr. Baah-Wiredu urged the insurance companies to take advantage of the Long-Term Savings Scheme Act (Act 679) and the insurance law by developing the right caliber of staff through training since government has facilitated the establishment of an insurance training center under the auspices of the National Insurance Commission.
Kwame Acheampong-Kyei, Managing Director of GLICO acknowledged the patronage of policyholders and corporate clients and expressed his profound gratitude for their support over the last two decades.
By Charles Nixon Yeboah