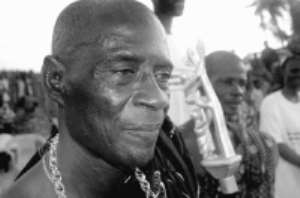 Nana Kundumuah IV has been Prince's Town chief for about 25 years. His son's home was burned during the riots. photos by FRANK DELANO/THE FREE LANCE-STAR
A leader of Prince's Town, Fredericksburg's sister city in West Africa, said this week that the seaside village in Ghana has returned to normal after four men died in rioting last month.
According to news reports, 23 houses burned in the unrest and many people in the Prince's Town area were injured. Police arrested 54 people on various charges.
"All things are now normal," said Alfred Kaku Aluade Acquah. Acquah is president of the Prince's Town branch of the Fredericksburg-Princes Town Sister City Association.
"There is not even one policeman in Prince's Town now," he said Wednesday.
Newspaper accounts said 75 policemen and soldiers descended on the town after the riot. The authorities found it largely deserted after residents fled to other communities or into the bush, the newspapers said.
Acquah said the trouble began when supporters of a rival chief attempted to hold a festival not sanctioned by Prince's Town Chief Nana Kundumuah IV.
Kundumuah IV has been chief for about 25 years. Last year, he led a delegation to Fredericksburg to establish the sister-city relationship.
His cousin, Nana Kundumuah V, also claims the chieftaincy, said Dr. Sannichie Quaicoe, a Prince's Town native now living in Texas.
Most of the violence occurred in Akatekyi, a fishing village about two miles from Prince's Town, Acquah said. He said one house was burned in Prince's Town.
Both towns are about an hour's drive on dirt roads from the nearest police and fire stations. Both lack land-line telephones.
Nana Tobiti Ackah, an Akatekyi subchief installed by Kundumuah IV, was among those killed, the Modern Ghana News reported.
The Akatekyi home of Kundumuah V was among those burned, according to a blog of Kwame Asiedu Marfo, a journalist in the port city of Takoradi about 90 minutes away from Prince's Town.
Akatekyi Chief Nana Kwasi Kpolley Arde III was among those arrested. The Ghana News Agency said he was charged with organizing the festival without a police permit.
Charges against others arrested include murder, rioting with offensive weapons, causing unlawful harm and causing unlawful damage. A court in Takoradi set a February trial date.
News accounts said that the trouble began Nov. 12 when dynamite was thrown in the festival crowd, seriously injuring a woman. One man was later arrested by police on charges of causing the blast. The violence continued until Nov. 14.
"Outsiders came to cause this trouble," said Acquah. "They caused the problem and then ran away. It was unfortunate, but it will not happen again."
"These events will have no effect on our relationship with Prince's Town," said Paula D. Royster, president of the Fredericksburg-Princes Town Sister City Association.
Royster led a group that visited Prince's Town and other places in Ghana this year. They had returned home before the trouble occurred, she said.
"The episode was disappointing," Royster said, "but I am really very proud that they have shown their resolve to do their best to move forward just like we do in a time of crisis."