President Kufuor receives Report on AU Government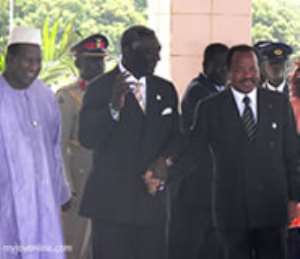 The 13-member high-level panel tasked by African leaders at the July Accra Summit to carry out an audit of the African Union (AU) for purposes of facilitating political integration of the Continent on Thursday presented its Report to President John Agyekum Kufuor at the Castle, Osu.

The Panel set up in September, this year, and chaired by Professor Adebayo Adedeji, took a little over three months to complete its job.

The over 200-paged Report comes in three parts. Part one gives a background to the demand for Union Government, while the second part identifies what it terms the "accelerators."

The final part deals with what the roadmap should be and ways to fast track the process.

President Kufuor, who is Chairman of the AU, praised the panel for its work of helping the Heads of State and Government "to define the Continent, the way it should be defined."

Africa, he said, had always been in search of itself adding that, through the extensive consultations with the African public by the Panel, the Document could be proudly said to be owned by Africans.

He directed that copies should be circulated to all African Leaders, representatives of Africans in the Diaspora and Council of Ministers to guide the Heads of State and Government at their next Summit.

Professor Adedeji said in doing its work, the panel interacted extensively with stakeholders and considered more than 300 documents and proposals.

This was the first time in the history of the Pan African Organisation that there had been such an audit of its established Organs in terms of policy and programmes implementation.

He said, although it would not be possible to put a date on the formation of the Union Government, they identified alternative routes to speed up its realization.