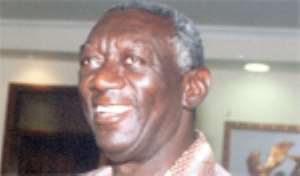 RESIDENT JOHN Agyekum Kufuor has lauded the efforts of chiefs, saying the unity of the country to a large extent depends on traditional leaders.
Speaking at a belated birthday party hosted by the Minister of Chieftaincy and Culture at the Castle gardens in Osu, President Kufuor said chiefs in their various ways had contributed to the development of the country.
Joining the President to celebrate his birthday were his friends, chiefs from across the country, members of the Diplomatic Corps, Members of Parliament and Ministers.
Nana Addo Dankwa Akufo-Addo, the newly-elected presidential candidate of the ruling New Patriotic Party (NPP) stole the show when he stormed the party grounds in the company of Dr Akoto.
After exchanging pleasantries with the President, he went round to do same with the other guests.
The President, who was born in 1938, marked his 69th birthday on December 8, 2007.
In a remark, the President said it was heart-warming for traditional leaders, who were contributing immensely to the nation's peace and stability, to pay tribute to him.
"We are democrats and the first thing we do is to give respect to human beings and when you respect a man, he would not resort to causing troubles."
Before cutting the birthday cake to commemorate the occasion, President Kufuor expressed his gratitude to all Ghanaians for their co-operation and patience throughout the year.
The Minister for Chieftaincy Affairs, S. K. Boafo explained that the occasion was to fulfill a promise he made last year to host a birthday party for the President this year, noting that on the said date, the Number one Citizen was out of the country, hence the rescheduling of the party to December 24.
To Nana Akufo-Addo, the newly-elected presidential candidate of the NPP, Mr Boafo said: "As the next president, please do not forget the chieftaincy institution as culture is the basis for national development."
The Omanhene of Asokore Mampong, Nana Prof. S. K. B. Asante and the Ga Mantse, Nii Tackie Tawiah II thanked the President for the recognition given to the chieftaincy institution.
The Asokore Mampong Omanhene observed, "President Kufuor will go down in history as one of the greatest pillars of democratic conduct in Africa. He has complied with all the components of democracy.
"By his hard work, he did not only emerge as leader of Ghana but as leader of Africa," he noted.
The guests, as they took turns to serve themselves with lots of food and drinks that were boldly displayed, enjoyed themselves to tunes from the Dukes International Band and a cultural performance by the National Dance Company of Ghana.
Moses O.K., a gospel artiste, also performed some songs from his recent album.
His 'Nea wo di mi a bedu yi eye mi fe dudo', to wit: I appreciate how far you have brought me, moved the guests as they sang along with him.
By Emelia Ennin