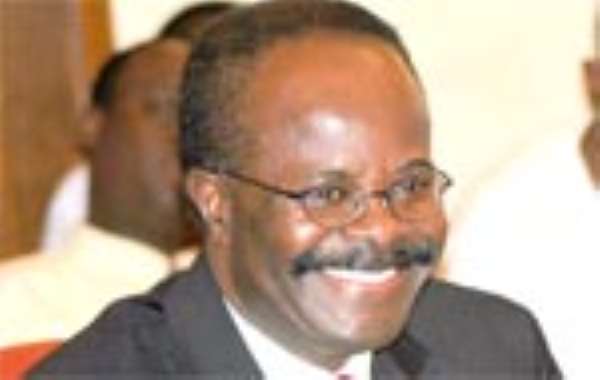 DR. PAA Kwesi Nduom, flagbearer of the Convention People's Party (CPP) has stated that CPP is not a third force in Ghanaian politics and that it will be politically suicidal for other parties to take the CPP for granted in the 2008 elections.
"I want to say it loud and clear that the CPP is not a third force in Ghanaian politics. The CPP is not in the race to support any political party in 2008. It is in the race to win in 2008," he said.
Dr. Nduom made this declaration in his maiden press conference held at his campaign office at Alajo near Accra after his election as the flagbearer of CPP.
It was attended by some stalwarts of the party such as Dr. Kwaku Osafo, one of the vanquished presidential aspirants at the Kumasi Congress; Lade Nylander, the newly elected Chairman of the party; Mike Eghan, Treasurer; Felix Amoah, Chairman of National Campaign Committee; and supported by his wife, Mrs. Yvonne Nduom.
According to him, "The CPP we are taking to the 2008 elections is different from the one we took to the 2000 and 2004 elections. We have new leaders, we have a strong message of bringing the economy back home to Ghanaians and we have an army of young men and women willing and prepared to take our message to every town and village in Ghana."
Dr. Nduom believed that his party had the professional and business people who were ready to support the party's campaign financially in the forthcoming elections.
He noted that both the New Patriotic Party (NPP) and National Democratic Congress (NDC) were each given an eight-year term to rule and that Ghanaians had tasted the pair and were not satisfied with their performances.
"Ghanaians are saying that after all their best efforts, we are where we are. We have not met our aspirations as a people. They want an alternative. I want to work hard for the CPP to be that alternative," he stated.
According to Dr. Nduom, the CPP was in a better position to create jobs for individual Ghanaians, stressing that "we need a leader who knows how to create jobs for Ghanaians and who knows the difficulties Ghanaians encounter."
By Wisdom Peter Awuku