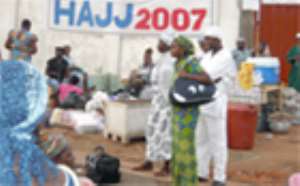 Reports reaching DAILY GUIDE indicate that eight Ghanaian Muslim pilgrims have so far died while on the Hajj in Saudi Arabia.
The reports said out of the eight who died, one pilgrim died after falling down while disembarking from the aircraft at Jeddah International Airport.
However, Ghana's Ambassador to Saudi Arabia, Alhaji Rashid Bawa disputed the figures, saying only four people had died.
Giving a breakdown of the figures, Ambassador Bawa told DAILY GUIDE that two people died at the Jeddah International Airport, one in Dubai and another in Mecca after the Hajj rituals at Mina.
Another pilgrim, he said, has been hospitalized for stroke.
Most of the deceased were said to have died as a result of old age.

It would be recalled that two people had died in Accra prior to the take-off of pilgrims for the Hajj exercise, while another died in Dubai, en route to Mecca.
In another alarming development, the Saudi authorities have deported 50 Ghanaian pilgrims who entered the Kingdom with fake travelling documents.
On arrival at the Jeddah International Airport, the suspects were caught with Togolese and Beninois passports with their photographs affixed to them, which act is popularly called 'Tushem' (cut and paste).
Close examinations indicated that the passports had been altered, prompting Saudi security operatives to arrest the offending Hajj pilgrims.
They have subsequently been deported, after high level diplomatic maneuvering by officials of the Ghana Embassy in Riyadh.
They were not deported to the Kotoka International Airport, especially since they claimed nationalities of Benin and Togo.
The deportees arrived five days ago, after being dumped in Togo.
They were put on a trotro-like plane that passed through Egypt, Libya, Cameroun, Benin and finally landed in Togo.
The suspects would have been jailed but for the intervention of Ghanaian diplomats, a source in Saudi told DAILY GUIDE yesterday.
This year's Hajj operation also recorded unprecedented hiccups in the annals of Hajj operations, with pilgrims almost missing the annual religious rites.
It took the intervention of President John Agyekum Kufuor to rectify the embarrassing situation, after the Saudi Crowned Prince had been consulted by the Ghanaian leader.
Ghana was given 2,700 slots for this year's Hajj which was climaxed with the Eid-Ul Adha festival last Wednesday after a visit to Mount Arafat by the pilgrims the previous day.
The Ghanaian pilgrims were in Mecca in the nick of time, and they went through the Hajj rituals accordingly.
The Crowned Prince of Saudi had assured President Kufuor that the pilgrims, though far behind schedule, would participate in this year's Hajj.
The pilgrims are now awaiting airlifting back to Ghana after a visit to Prophet Mohammed's Mosque in Madina.
By Fortune Alimi