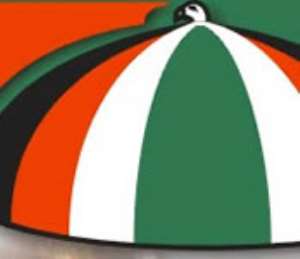 Lack of vigilance and non-commitment have been identified as major causes that led to the downfall of the National Democratic Congress (NDC) in the 2000 and 2004 Parliamentary and Presidential elections.

This was reflected in the speeches delivered at Esaman-Kakraba NDC branch rally and the launch of party Identity Card at Esaman-Kakraba near Tarkwa in the Tarkwa-Nsuaem Constituensy.

Alhaji Mahama Fuseini, Western Regional vice chairman of the NDC said the NDC could win elections only when the branches of the party were strong and manned by committed and vigilant polling station assistants.

He said the New Patriotic Party (NPP) is diverting attention from its shortcomings by prescribing the method of campaigning, saying the campaign is about issues.

Alhaji Fuseini said when NPP took office, it made the whole world to know that NDC left a whooping ¢41 trillion debt but within seven years of office, NPP has incurred a debt of ¢67.5 trillion.

He said, "in 2000, NPP said workers salaries were as low at ¢4,200 but had increased it up to ¢19,000 but rented single room at ¢15,000 as compared to ¢200,000 today, a loaf of bread was ¢1,000 but now it is ¢10,000."

Alhaji Fuseini alleged that some Ministers and supporters of NPP were misusing state funds without accounting for them because the President would not comment, adding that, former President Jerry John Rawlings was vigilant and ministers could not do that.

He cited the waste at the 50th anniversary secretariat and the display of cash during the NPP flagbearship campaign as examples of the misuse of state funds.

Mr. Solomon Kwabena Amoah, former Wassa West District Chief Executive, told the supporters not to be complacent, saying now that CPP is transformed with PNC having elected its leader, the 2008 elections would be keenly contested and those who cannot perform should be changed for effective campaigning.

He told polling agents to renew their commitment to the party and appealed to them not to pick up quarrels when the time comes and some of them were not appointed.

Mr. Amoah said, "let us bring back a system where everybody would be free after 2008 elections."

Mr Ben Entsie, alias Big Ben, Tarkwa-Nsuaem constituency organiser said for soldiers to molest and flush out galamsey operators without giving them alternative sources of livelihood amounted to depriving the people of their means of living.

He said it was the NDC which regularised galamsey for the people to work but the change in government has brought in its wake suffering, hunger and deprivation.

Mr Amoah told the supporters that a lot of lies were being peddled about NDC and it was up to them to tell the truth and the good things about NDC to change the minds of the people to vote NDC back to power.

Mr. Kwame Adu, Tarkwa-Nsuaem constituency chairman of NDC said the rally marks the beginning of 2008 elections campaign in the constituency and called on other branches to do the same.

Madam Anita Annan, Western Regional Women's organiser advised women to involve themselves in active politics, saying, politics is not about money but commitment.

She said there were examples of politicians who spent so much money to influence voters but eventually lost to less financially endowed people, adding, "money is not the yardstick for winning elections."

Mr J.R.D Cobbinah, Western Regional Secretary, NDC launched the new NDC membership card.

Other speakers included Nana Kwabena Oboh II, second vice chairman, Mr Odei Tettey, party elder and Mr. Jacob Aboagye, Esaman-Kakraba branch chairman.