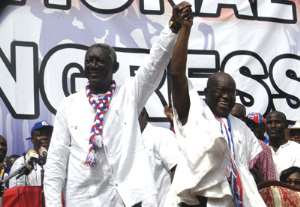 President J. A. kufuor lifts the hand of Hon Nana Addo Dankwa Akufo-Addo to introduce the elated flabearer to the Congress
President John Agyekum Kufuor yesterday congratulated Nana Addo Dankwa Akufo-Addo, the newly elected flagbearer of the New Patriotic Party (NPP) for Election 2008 and described him as the man of the moment.
'Since the 1960s congress has never failed to elect the man of the moment to lead our great tradition into election and this year again congress has chosen someone who is obviously the man of the moment,' he said.
President Kufuor made the declaration at the just ended National Delegates Congress of the NPP, which was under the theme 'Uniting for Victory'. The curtain was brought down on congress at exactly 10.41 hours yesterday after about 40 hours of addresses, voting, vote counting and results declaration flavoured with a pinch of confusion.
After the first round Nana Akufo-Addo, affectionately called Nana, emerged winner with 1,096 votes, representing 47.96 per cent of the 2,285 valid votes cast.
Even though he fell short of the constitutionally mandated more than 50 per cent votes necessary to become a flagbearer, his closest contender, John Alan Kyeremanten, who polled 738 votes (32.3 per cent) conceded defeat and pledged his support to Nana.
Meanwhile, President Kufuor also congratulated Mr Kyeremanten for conceding defeat to the obvious man of the moment, saying that there was no need hitting ones head against the brick wall when it was obvious that one was fighting a losing battle.
'You have demonstrated that you are a true sportsman,' he told Alan Kyeremanten. He noted that Nana's pedigree as a party man was unquestionable, adding that his whole life experience was as if he was being prepared for such a day as this.
His family, his education, political affiliation all go to tell that he is truly destined for this position - he is related to as many as three of the members of the Big Six - J. B. Danquah was his granduncle, Edward Akufo-Addo was his father and William Ofori-Atta was his uncle, President Kufuor said.
President Kufuor raised Nana's hands as a sign of passing on the baton of flagbearership to him and expressed the hope that he would also have the opportunity to pass on the presidential sword to him in 2009 to succeed him as the next president of Ghana. All the other 16 contestants pledged their support for Nana Akufo-Addo in Election 2008. Nana Akufo-Addo expressed gratitude to the contestants, especially Alan Kyeremanten for giving him a good run for his money. He told Alan; 'you will be president after me'.
He said in the same manner that they had worked together under President Kufuor's administration, he would continue to work with each of them to win power in 2008 and to continue with the unfinished agenda of the Kufuor Government.
Nana Akufo-Addo sent a note of warning to the NDC that he was coming at them with the power of his 16 other colleagues to beat the NDC decisively in 2008, but pledged that his campaign would be devoid of vilification, vindictiveness, false accusations insults and would expect the same from all the parties.