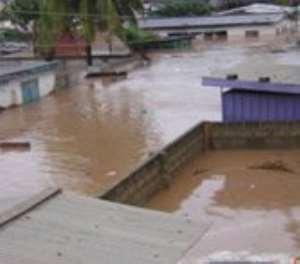 The floods which hit the northern parts in September 2007 have washed three dams in the communities in the Sumbrungu area. This has resulted in water shortage for livestock in the Bolgatanga municipality. This was revealed by the Assembly man for Kulbi, George Awilumbono at this year's celebration of the Sapoolgu Maltena Festival of the chiefs and people of Kulbia near Bolgatanga.
He said through the intervention of some organizations some women in the community now get micro credit to embark on business enterprises.
Mr. Awulumbono also thanked the Bolgatanga Municipal Assembly for coming to the aid of the people with a clinic, three classroom blocks still under construction and teachers quarters.
The Chief of Kulbia Naba Akurugu Akadana was worried that only one dam is left to cater for the needs of several communities. He said because of this he has banned farming near the dam. Naba Akadana appealed to chiefs to ensure peace and unity among their people and urged the youth to be disciplined at all times.
In a related development the chiefs and people of Kumbosgo a suburb of Bolgatanga have celebrated their annual Anonkua Festival with an appeal to the Ministry of Food and Agriculture to help rehabilitate their broken dam to enable them to go into dry season farming.