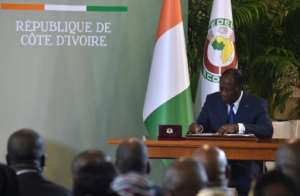 Ivory Coast's president Alassane Ouattara signs the country's revisited constitution on November 8, 2016 at the presidential palace in Abidjan. By Issouf Sanogo (AFP)
Abidjan (AFP) - Ivory Coast's Third Republic came into being Tuesday with the signing into law of a new constitution overwhelmingly adopted last month in a referendum boycotted by opposition parties.
"The wind of democracy is blowing again in Ivory Coast," President Alassane Ouattara said in an address to the nation after signing the document at his Abidjan offices.
"The promises of the Third Republic are the promises of peace, stability, equality and modernity," he said.
The new constitution "will serve as a social contract for numerous generations," Ouattara added, pledging to "accelerate reforms for the good of the Ivorian people."
On October 30, more than 93 percent of voters approved the new basic law. Turnout was 42 percent.
The opposition, which had derided the new constitution as undemocratic and as designed to allow Ouattara to hand-pick his successor, said "massive fraud" had taken place during the referendum and that its results were "fake".
The opposition has complained that neither it nor civil society were invited to join the consultations that led to the document's drafting.
The new constitution was largely Ouattara's brainchild. One of his main selling points was that, in a country with a large population with roots in neighbouring countries such as Burkina Faso, it did away with the nationalistic concept of "Ivorian-ness."
Crystalised in a constitutional stipulation -- now removed -- that both parents of a presidential candidate must have been born on Ivorian soil, "Ivorian-ness" has long been a driver of instability.
This clause prevented Ouattara himself from standing for the top office until a decree was passed allowing him to run.
Shortly after the turn of the century the country was split in two for a decade: a rebel north and a south under the control of former president Laurent Gbagbo.
Gbagbo now faces trial before the International Criminal Court on war crimes charges related to the violence that followed his refusal to accept Ouattara's 2010 election victory.
The new constitution creates the post of vice president, whose first incumbent Ouattara is due to appoint in the coming days. In future, presidential hopefuls will include a running mate on their election ticket.
Other new entities include a senate, as well as chamber of kings and traditional chiefs.