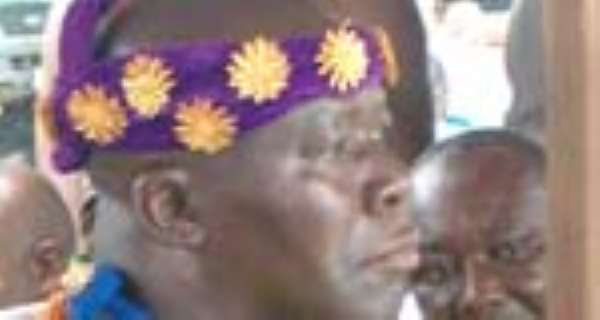 AS THE 2008 general elections gradually draws near, the Asantehene, Otumfuo Osei Tutu II has sternly cautioned chiefs in the country not to engage in political activities.
"As we approach the 2008 election year, let Nananom be reminded of their neutrality in partisan politics."
Otumfuo gave the warning when he was addressing members of the Ashanti Regional House of Chiefs during the House's 2nd and last general meeting of the year 2007 in Kumasi.
He believed that when chiefs are politically neutral, it would help maintain the prestige and respect that the chieftaincy institution had enjoyed and continues to enjoy in the country.
The Asantehene, who is the President of the House, reminded the chiefs that although they were free to discuss and voice out their opinion on national issues, care must be taken in doing that so that such discussions did not reveal their political lineage.
He explained further that when chiefs remained neutral on political issues, they would be in the position to arbitrate matters that might arise among members of political parties in their localities without any faction feeling embittered.
Otumfuo entreated chiefs to treat the flagbearers of the various political parties equally so they would have full confidence in the chiefs, reiterating the need for chiefs to be politically impartial.
He advised chiefs to take interest in the contents and make their views known concerning the draft Chieftaincy Bill which is before Parliament.
Overlord of the Ashanti Kingdom admonished politicians to conduct their campaigns with humility, stressing, "they should avoid mudslinging, insult and character assassination".
He was of the conviction that politics devoid of insults and fighting would go a long way to protect the current peaceful atmosphere pertaining in the country.
He called on the electorate to be patriotic, urging them to let their love for the nation supersede every consideration and pick a competent and capable candidate to lead the country to prosperity.
Touching on developments of Kumasi, the Asantehene commended the Kumasi Metropolitan Assembly (KMA) for embarking on a successful beautification exercise, and called for the sustenance of the programme.
He however deplored the darkness at some parts of the city in the night, and charged the KMA to provide electricity in every part of the city to help make the Ghana 2008 football tournament successful in the city.
Otumfuo urged also the KMA to ensure that edifices being erected at circles and triangles to beautify the city portray the rich culture of the Ashanti Kingdom.
He praised chiefs in the region for working marvelously during the year, and entreated them to confront the coming year with the same zeal.
The meeting, held in accordance with the provisions of the Chieftaincy Act of 1971, Act 370, enabled Nananom to assess their performance for the year and strategize for the New Year.
From Fred J. A. Ibrahim Jnr.,