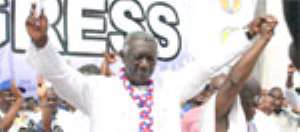 President John Agyekum Kufuor yesterday described Nana Addo Dankwa Akufo-Addo, New Patriotic Party (NPP) newly elected presidential candidate for next year's general elections as the man of the moment, saying his selection was a 'choice of destiny'.
"Since the 1960s, congress has never failed to elect the man of the moment to lead our great tradition into election and this year again, congress has chosen someone who is obviously the man of the moment," President Kufuor said.
Congratulating NPP's new kid on the block at the end of the party's congress at the University of Ghana, Legon, the President said Nana Akufo-Addo deserves the mandate after a good fight with 16 other equally competent aspirants.
"I congratulate you, Nana. It is a choice of destiny and Nana Addo deserves it."
Nana won the election with 1,096 votes, representing 47.96 per cent of the 2,285 valid votes cast, beating Alan Kyerematen, another favourite to second position.
The new flagbearer was contesting for second term after he challenged President Kufuor in 1998 at the Sunyani Congress.
Nana Addo came second after then candidate Kufuor, with five other aspirants including J.H. Mensah, Dr Kofi Konadu Apraku and Alhaji Malik Alhassan, second Deputy Speaker rallying behind.
The President raised the candidate's hands, symbolizing the passing on of the baton of leadership to him, and promised to pass on the presidential sword to him in 2009 to succeed him as the next president of Ghana.
Mr Kufuor said there was no way the NPP would lose the 2008 elections, and stated that Nana's modest background has prepared him for the task ahead.
The NPP, he said, was a party of rich tradition and that it was not ready to trade it off.
"The party issues out of a tradition that has displayed attributes with a strong streak of spirituality. Even within the confines of the rigours of democratic selection, we live above the basement of common sense and pragmatism."
He congratulated Alan for graciously conceding defeat to Nana, saying that one needed to know when to apply the brakes when one was fighting a losing battle.
Nana Akufo-Addo expressed his readiness to lead the party for the battle ahead.
"The NPP under the leadership of President Kufuor has established the best record in the annals of the country; and that is the record that we're going to defend with great vigour and enthusiasm next year," he said.
Fortune Alimi