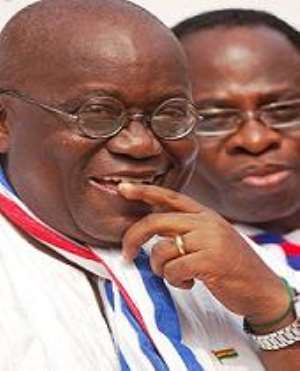 Nana Addo Dankwa Akuffo-Addo, the man who now carries the crown of the NPP for the 2008 presidential elections has told delegates and party members that he would work hard to see the Danquah-Busia tradition get another nod from Ghanaians.
Nana Addo, a three-time contender in the flagbearship race of the party said he would not relent in his effort to marshal the best support from the citizenry to ensure that victory is won for the NPP in the 2008 contest.
Nana Addo gave the assurance when he delivered his acceptance speech after the concession of defeat of the first runner-up, Mr. Alan Kyeremanten, at the Congress grounds at the University of Ghana.
In what analysts say was the hottest flagbearship race in the political annals of the nation, Nana Akuffo-Addo polled 1096 votes representing 47.965 percent of valid votes cast to defeat another favourite, Alan Kyerematen into second position. Alan polled 738 votes representing 32.298 percent.
Even though Akufo failed to secure the mandated 50 percent plus one or more votes to register a onetouch win, Alan gracefully conceded defeat and thus prevented a predictably tortuous run-off.
The flag bearer called on party members to gird their loins for next year's general elections to keep the NDC in opposition.
"The NPP party under the leadership of President Kufuor has established the best record in the annals of the country; and that is the record that we're going to defend with great vigour and enthusiasm next year," he said.
Officials of the party say all is set for the flag bearer to embark on his support garnering enterprise as aspirants keep pledging total commitment and support for him.