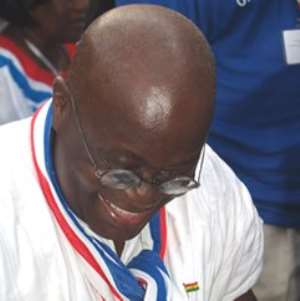 Ghana's ruling New Patriotic Party (NPP) chose 63-year-old former foreign minister Nana Addo-Dankwa Akufo-Addo on Sunday as its leader and candidate to succeed President John Kufuor in next year's presidential election.
After leading a keenly contested vote that dragged on overnight, Akufo-Addo's nomination was adopted by acclamation.
"Taking into account the deliberations this morning, I have the singular pleasure of declaring Nana as the NPP candidate for the 2008 presidential election," said the party's Electoral Commission officer, Sarfo Katanka.
Akufo-Addo, a British-trained lawyer who has also been justice minister and attorney general, secured nearly 48 percent of votes from more than 2,000 delegates to the party's congress, just short of the 50 percent required for an outright victory.
The runner up, former trade minister Alan Kyerematen, pledged to support Akufo-Addo ahead of the presidential election scheduled for December 2008.
"I wish to congratulate my good friend and brother Nana Akufo-Addo and also to concede to him. I am doing this to maintain the unity of our party. It is also to preserve the scarce resources available to the party and to give our brother an opportunity to lead the party in 2008," Kyerematen said.
The former British colony, once known as the Gold Coast, is Africa's second largest gold producer after South Africa and is the world's second biggest cocoa producer after neighbouring Ivory Coast. (Reporting by Kwasi Kpodo; edited by Alistair Thomson and Ibon Villelabeitia)