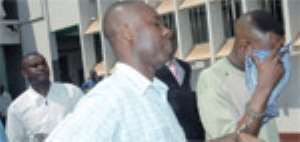 THE MAN who crashed his car into President John Agyekum Kufuor's convoy was yesterday slapped with a fresh charge of use of narcotic drug, when he appeared before an Accra Fast Track High Court.
The accused, Thomas Osei, who was discharged by a Motor Court on Thursday, pleaded not guilty to six counts of dangerous driving, negligently causing harm, driving under the influence of alcohol, failing to give way to a presidential convoy and use of narcotic drug.
According to the prosecution, a laboratory test on the accused's urine revealed narcotic traces.
Initially, the prosecution did not want his plea to be taken on grounds that investigations were still ongoing but after severe persistence from his counsel, Kwame Akuffo, the court, presided over by Justice E.K Ayebi, agreed that it should be taken.
Counsel, in a bail application, stated that the first charges were motor offences on which the court could easily grant the accused bail, arguing that with respect to the use of narcotic drug the prosecution did not state the time when the test was conducted.
He said the test was not taken in the presence of any independent witness and that the prosecution had brought this up at the last minute to keep the accused in custody.
Counsel observed that it was dangerous for prosecution to rely on a urine sample to charge the accused with a narcotic offence.
Explaining how the accident occurred, counsel told the court that on the said date his client, at the intersection near the Opeibea House, parked behind two vehicles when the traffic light was on red.
According to him, when the traffic light turned green the two cars moved to the left direction and since Thomas Osei was moving in a straight direction he did not hear the siren because by then the motor riders were far ahead of the President. Counsel said his client then bumped his car into the President's vehicle.
He indicated that the President's car did not give sufficient notice to other road users, adding that his client did not "manage to drive" into the President's car as prosecution had indicated but "drove into" it, meaning he did not sneak behind the barriers to hit the car.
He noted that there was no evidence that a motor rider blocked the intersection and the accused ignored him, and therefore prayed the court to see the incident as an unfortunate one.
He asked the court to consider granting bail on the grounds that his client had a permanent place of abode and was the contractor of the Yamoransa road and that he would not offend the court.
However, Miss Aikins prayed the court to wait for the security agencies to complete their findings for the court to decide on the bail issue.
The judge therefore remanded the accused into police custody till January 7, 2008.By Mary Anane