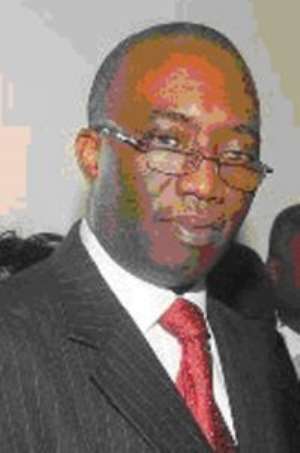 The Acting Director of Public Prosecution, Gertrude Aikins yesterday hinted to a Fast Track High Court that it is likely that they would prefer further charges against Thomas Osei, the driver who crushed into the President's vehicle.
She made these pronouncements when new charges were preferred against the accused.
This comes 24 hours after the Attorney General Department withdrew the charges it filed against Thomas Osei before the Motor Court, which was then hearing the case.
Thomas Osei is now charged with six counts of offences including dangerous driving, negligently causing harm, driving under the influence of alcohol, failing to give way to president convoy siren and the use of narcotic drug without lawful authority.
The accused pleaded not guilty to all the charges.
The fact of the case are that at about 11:30 am on November 14, Osei, who was driving a Mercedes Benz SE 500 saloon car with registration number GT 2989 W was in the inner lane along the South Liberation Link from AFGO towards 37th Military Hospital.
When he arrived at the Opeibea traffic light, he ignored the siren of the presidential convoy and drove straight into the rear offside portion of the President's Mercedes Benz 550 saloon car. The impact forced the President's vehicle to spin around and hit a light pole on the central reserve.
The President's vehicle fell on its right side and landed on a VW Golf saloon car with registration number GW 8750 K driven by Pastor Ken Joe Osei Kuffuor, who was driving from 37th Military Hospital. All the vehicles were damaged and the drivers, who sustained injuries, were rushed to the 37th Military Hospital.
Ms Aikins said further investigations revealed that Osei was driving under the influence of alcohol as when he was tested with an Alco Sensor it read 0.41 per cent content of alcohol in his breath instead of the legal limit of 0.08 per cent. She said further urinal test shows that Osei has taken in narcotic drug.
Attempt by Kwame Akuffo, Counsel for Osei to apply for bail was turn down by the court. The case has been adjourned to January 7.
By Gilbert Boyefio