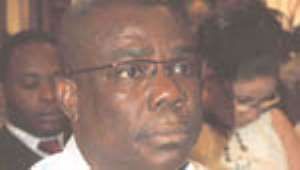 WITH ONLY a day to the National Delegates' Congress of the ruling New Patriotic Party (NPP), members of the party in the Oforikrom constituency of the Ashanti Region have taken their chairman to court.
Currently, the fate of delegates from the constituency hangs in the balance. As to whether or not they would be allowed to vote at the big political event, is yet to be determined.
This follows a writ of summons filed at the Kumasi High Court, where four party members are seeking an order for perpetual injunction to restrain Mr. Lawrence Akwasi Prempeh, Oforikrom NPP constituency chairman and the Ashanti Regional Headquarters of the party from allowing the selected persons to vote at Saturday's congress.
The writ was filed by Mr. Kofi Owusu Ansah and three others at the court presided over by Mr. Justice Kwame Ansu-Gyeabour recently.
In a statement of claim filed by their solicitors, the plaintiffs said by Article 12 of the party constitution, members who are entitled to elect the presidential candidate at the congress would comprise 10 delegates from each constituency.
The party constitution, according to them, stipulates further that every constituency executive committee shall convene an extraordinary constituency delegates' conference to elect, when required, six members of the constituency, together with four constituency officers.
They maintained that all constituencies had been asked to keep to the said provision in the selection of delegates for the congress.
Plaintiffs accused the first defendant, the constituency chairman, of refusing to abide by the regulation and single-handedly picking his favourites as delegates to represent the Oforikrom constituency.
It named the selected persons as Mr. M. K. Obiri, Mrs. Agnes Oduro, Mr. Francis Azalate, Mr. Anto Kusi, Mr. Baba Awudu, Mr. Joe Amoah, Mr. Aboagye, Mrs. Helena Asante, Mr. Adjei Beduako and Mr. Lawrence Akwasi Prempeh.
The plaintiffs contended that this mode of selecting delegates for the impending congress was a clear and flagrant violation of the NPP constitution and ought to be declared unconstitutional.
The writ said the development was also a breach of the fundamental rights of the plaintiffs as well as the numerous members of the Oforikrom constituency.
The statement further contended that the arbitrariness displayed by the first defendant and his likes had the potential of splitting the NPP and also likely to dim its fortunes in the 2008 general elections.
When DAILY GUIDE contacted the Ashanti Regional NPP secretary, Mr. Sam Cujoe, about the party's decision on the issue, he said they were waiting for the hearing and determination of the matter in court before they would decide on what steps to take.
Meanwhile, the court has adjourned the case to today, December 21, 2007 for determination.
From Stella Danso, Kumasi