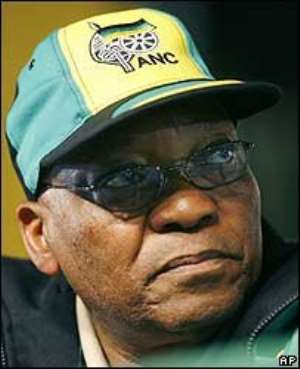 South Africa's top prosecutor says there is enough evidence to charge the new leader of the governing party, Jacob Zuma, with corruption. The charges relate to a controversial arms deal, which saw one of Mr Zuma's advisers jailed for 15 years. Mr Zuma, 65, who denies wrongdoing, has been addressing his party for the first time since defeating President Thabo Mbeki in a bitterly-fought election.
He told the African National Congress he would work with his defeated rival.
Mr Zuma defeated Mr Mbeki in a bitterly-fought contest on Tuesday.
Making his first speech as ANC leader, the former deputy president - sacked by Mr Mbeki in 2005 - said no Zuma-Mbeki split could be allowed to emerge.
"None of us is bigger than the organisation or the ANC," he told delegates at the party's conference.
Mr Mbeki's spokesman on Thursday denied rumours that the president was now considering stepping down before the end of his term in 2009.
In his speech, Mr Zuma laid out his vision for the ANC and for South Africa, stressing that the organisation remained committed to "broad-based black empowerment", and to a reduction in crime levels.
'Cloud'
The BBC's Will Ross, at the conference in Polokwane, says the timing of the prosecutor's announcement has come as a surprise to many people.
Speaking on South Africa's 702 Talk Radio, Mokotedi Mpshe said the investigation into Mr Zuma was complete, and that "all we are doing now is tying [up] the loose ends".
Mr Zuma's lawyer, Michael Hulley, told the Reuters news agency that he had not been notified about possible legal action against the ANC leader.
"I can only speculate that the actions of the [acting head of the NPA] are fuelling and lending credence to the idea that state resources are being used against my client," he said.
Mr Zuma was sacked as deputy president after he was implicated in a corruption trial that saw his former financial adviser Schabir Shaik convicted of fraud and corruption.
The case against Mr Zuma was withdrawn last year, but the NPA has been gathering new evidence and fresh charges have been expected for some time.
Mr Zuma said last week that he would only step down from is position in the ANC when he was found guilty in court.
His supporters have portrayed the investigation into Mr Zuma as part of a conspiracy mounted against him by the elite Scorpions police unit, which was set up by Mr Mbeki.
ANC treasurer-general Mathews Phosa, an ally of Mr Zuma, said the charges hanging over Mr Zuma's head were "a cloud manipulated by the Scorpions", the AFP news agency reported.
Unity plea
In an unrelated, high-profile case last year, Mr Zuma was cleared of rape. His supporters say those charges against him were also politically motivated.
As the new leader of the ANC, Mr Zuma is in a strong position to become the country's next president when Mr Mbeki steps down in 2009.
The leadership contest between Mr Mbeki and Mr Zuma was bitterly fought, and divided the ANC.
Afterwards, Mr Zuma's supporters called for unity, saying it was not the moment for triumphalism or revenge.
But the shockwaves from the conference are being felt across South Africa, says BBC Africa analyst Martin Plaut, and after more than a decade of stability, everything seems in flux.