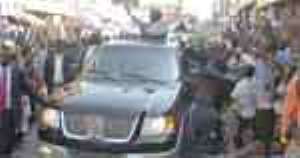 The Central Business District of Accra virtually came to a standstill yesterday when President John Agyekum Kufuor took a ride through the area.
The cheering crowd included traders, pedestrians and Christmas shoppers who stood by both sides of the road waving and shouting as the President's official vehicle drove towards the castle.
The President acknowledged the cheers of the people as he stood out in his convertible vehicle while on his way out of the Accra Railway Terminal, after he had taken a ride on the train plying the Tema-Accra route which was commissioned earlier in the day.
Earlier when the President rode in the maiden coach, people stood by the railway to cheer him and also thank him for reviving the rail network.
At Alajo, when the train had to take the Accra route, the President came out of the coach he was in to join another and there, the crowd that came to cheer him was heavier than the earlier one.
At the Central Business District, President Kufuor, who was mobbed by people shouting "Kufuor, Kufuor", used the opportunity to wish them a merry Christmas as he waved and beamed.
People in the enthusiastic crowd were seen dancing though there was no music, while others ran towards the moving convoy in an attempt to touch the President's vehicle.
Not even the presence of the state security officials including police officers could deter the crowd.
Noticeable among the teeming crowd, which included men, children and women, was the act of some women, who took off their cover cloths and tried to clean the vehicles in the convoy that passed by.
The thick crowd made it difficult for the President's vehicle to move freely.
It took the combined efforts of the police and military personnel to clear the way for the President's vehicle to move out of the busy part of the city.
A woman in the crowd when asked why she was so excited and had followed the convoy from the Accra railway station to the Tema station, as she panted with beads of perspiration trickling down her face, said "I have never seen the President and especially after the accident which he was involved in, I think I am blessed to see him in the flesh."
By Emelia Ennin