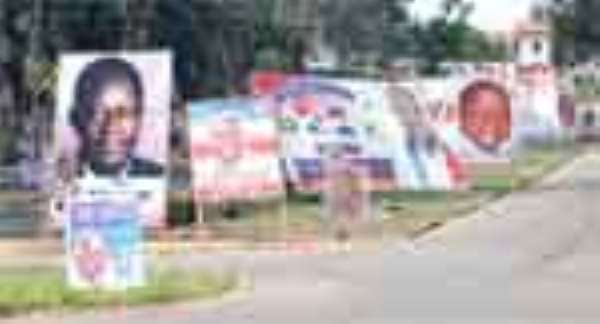 Posters of the 17 New Patriotic Party (NPP) presidential hopefuls have virtually taken over the Legon campus of the University of Ghana.
The posters have been splashed across the length and breadth of the campus, covering every inch of space including streetlights, sign posts and trees.
As at 10.00 am when DAILY GUIDE visited the University of Ghana campus, there were indications that all was set for the 'mother of all congresses' which takes place at the Great Hall of the university.
These posters have not only been designed into various shapes and sizes; they have on them printed messages that seek to explain the aspirants' vision for their party and country.
Contrary to what is displayed around the campus and even in and around the capital, there is no single poster around the Great Hall, which is the exact venue for Saturday's all-important party exercise.
Personnel of the Ghana Police Service were seen arriving in buses, suggesting that they may have come ahead of time to look at ways of ensuring a peaceful NPP congress.
In the midst of all the muscle-contest, pomp, and display of affluence, the question is: Who will be the 'last man standing' when 16 others fall?
By Razak Mardorgyz Abubakar