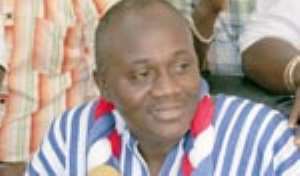 DAN KWEKU Botwe, one of the presidential aspirants of the New Patriotic Party (NPP) has stressed that the person to lead the party to the next general elections must be a true-blue party man.
He said the person must be someone who had been with the party since its formative years, and therefore called on delegates to be careful in their choice of flagbearer on December 22.
He said delegates needed to be on their guard because certain persons who became ministers in the NPP government when it won power in 2000 and did not know the genesis of the party were describing themselves as founding members.
Mr. Botwe made this observation in an interview with DAILY GUIDE in Takoradi at the weekend after he had met with delegates as part of activities to round up his campaign tour of the Western Region.
He asked delegates to look for someone whose umbilical cord was still tied to the NPP and had been with the party when things were difficult, noting that that if that was the person they were looking for, then "I am the one".
He contended that he had demonstrated his love for the party by taking some tough decisions just to keep the party going, adding that he was part of the Danquah-Busia Tradition and had fought against dictatorship.
The former NPP General Secretary said he had acquired a lot of political experience, harnessed the organizational mind-set that linked the party to all the 230 constituencies, and had also liaised with parliament to know what was going on during his tenure as general secretary.
He went on that as part of his duties, he had to study what the party's political opponents were up to so as to device effective strategies to counter them.
"I am a good campaigner and beyond that I have also served in government," he said, maintaining that he was a cabinet member in the first government of President John Agyekum Kufuor.
"I learnt how government systems worked and when and how to make decisions."
Mr. Botwe stressed that he had been a cabinet member for five years, which was peculiar with most Ghanaian politicians, observing, "Nobody had even been a President of Ghana with five years cabinet experience".
He pointed out that he had gone through the mill and had had national and international exposure, and that when given the nod, he would make sure all natural resources and human capital in the country were properly harnessed to move the nation forward.
"I will equip the anti-corruption agencies to cut down corruption to the barest minimum and make Ghana a happier place to live while ensuring that the people have a better standard of living."
From Sam Mark Essien, Takoradi