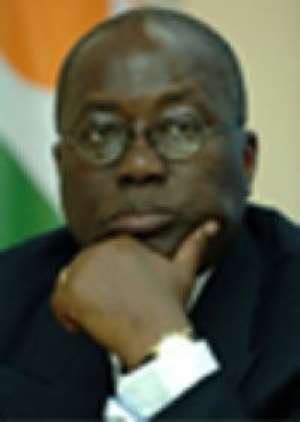 With three more days to the New Patriotic Party Flagbearship congress, some top Ghanaian musicians including the new President for musicians union of Ghana, Diana Hopeson (formerly Akiwumi), Ace musicians Gyedu Blay Ambuley, Mac Tonto of Osibisa fame and others have declared their total support for Nana Addo Dankwa Akufo-Addo, a leading member of the face.
Hi-life maestro, Amakye Dede's confidence in an Akufo-Addo victory is beyond doubt: "Even President Kufuor knows and believes that Nana Akufo-Addo is winning 'one touch" and is the best to succeed him after 2008.
As Bob Marley sung (who the cup fits must wear it), Nana is 'one touch.' Don't joke with him. Akuko bebon ama adie atsi no, na Nana aye One Touch, to wit, 'by the time the cock crows the next morning, Nana would have won one touch', he told this paper.
Yesterday on Tema's Adom Fm and on 18 affiliate stations, political satirist A-Plus launched his latest single 'Dano,' which endorses the candidature of Nana Akufo-Addo.
Though not delegates and not politically partisan, the music stars believe the NPP congress must be seen as a vote on Ghana's destiny and, therefore, it is not out of order for their voices to be heard, too.
Diana Hopeson, told The Statesman in a telephone interview that, though she had no political affiliation, she believes that Nana Akufo-Addo has said and acted, through the sponsoring legislation, in a manner that shows his support for the nation's creativity industry.
Speaking to The Statesman, Gyedu Blay Ambuley said 'the Music industry is a huge capital making venture and we need personalities like Akufo-Addo to help musicians restructure our administrative structures to develop it."
He added, "Apart from Dr Kwame Nkrumah I think all the past governments neglected the music industry. President Kufuor I will say has started something good for the industry.
He honoured eight musicians recently and brought in some of our members to help in drafting the Copyright Law, among others. However we still need more focus to develop and need a personality like Akufo-Addo to step in."
Mac Tonto of Osibisa fame, who joined South African super star, Hugh Masekela at a fundraising dinner for the presidential candidate last month, also described Nana Akufo Addo as "a big music lover.
He is a great fan and always makes his intention of developing the music industry known to us both in words and deeds."
Alhaji Sidiku Buhari, who led a group of musicians, including Paapa Yankson, to Nana Akufo-Addo's media event at Alisa Hotel in August, is also a very big admirer of Nana's leadership qualities and Nana's particular interest in the music industry.
His successor, Ms Hopeson believes the aspirant, a friend of the arts, raises the hope for musicians. "Personally, I will do any thing to support any initiative aimed at developing the music industry in the country."
She said further, "Though government has initiated measures to abolish tax on musical instruments and facilitated the passage of the Copyright Law, I believe proper legislation is needed to implement it," and she expressed the confidence that Nana would see to that happening.
A-Plus a young musician, known for creating controversial political songs described Nana as versatile and "an ageless friend of the youth." He said the country needs a leader with Nana's qualities to lead her. "I want Nana and Prof John Atta Mills to contest for the 2008 general elections, since they are most qualified; I wouldn't mind if any of them wins."
George Kwabena Adu, also known as Kwabena Kwabena, said Nana has used his legal background to benefit the music industry and will do more as President. "I support his vision since it's a laudable idea, we will do our best to support him to win and develop our sector."
He also said that the music industry "for a long time hasn't received much attention from government. We need him to enforce our copyright laws and payment of royalties. Also radio stations should be made to stop demanding royalties. These are things we want him to do when he wins the elections."
Pozo Hayes was much excited about Akufo-Addo's statement. He said "musicians have been neglected for a long time and though there are positive signs, Nana, through my interactions with him, has a clearer picture of what our problems are and what the solutions may be.
"The past government did little to solve the problem of musicians and we will do our best for him so he does the rest."
By Scholastica Nyarko