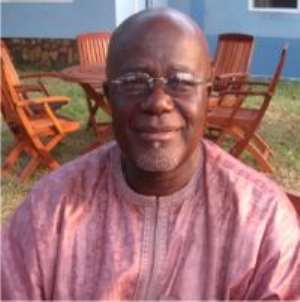 Hackman Owusu-Agyemang, flag bearer aspirant of the New Patriotic Party has advised his colleague aspirants to consider the seeming rivalry among them as an internal party affair which must be tackled diplomatically in a civil manner.
"All of us are from the same stock and it therefore behoves on us to see ourselves as unifiers who are capable of taking our great party and Ghana to higher heights," he noted.
The NPP flag bearer aspirant said this during a press encounter after addressing delegates of the Upper East Region at the social centre here.
He described himself as a true statesman, a diplomat and positive track record holder who has committed and dedicated himself to his party and the nation at large.
He noted that election 2008 will be a crucial one and thereby advised delegates to the party's December 22nd congress to give him the nod to lead the party to victory.
The former Minister for Water Resources, Works and Housing cautioned against the use of money to influence the delegates decision and advised those engaged in that practice to stop it.
"Money spending should not get out of proportion because I believe we have not completely subsumed to the issue of spreading cash in our campaigns," he emphasised.
Hackman Owusu-Agyemang also appealed to supporters of other aspirants to stop fanning ethnocentric and religious sentiments during their campaigns and asked them to take a cursory look at the situations in Rwanda, Angola and Cote d'Ivoire.
By Mariam Mandeiya