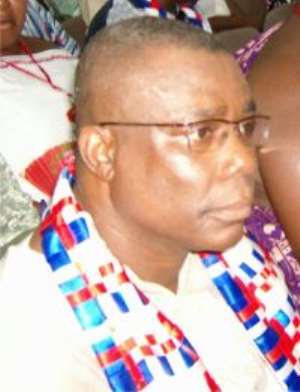 Apart from the media hype that has accompanied this year's New Patriotic Party National Delegates Congress to elect a flagbearer on December 22, the stringent security measures and the technology being employed to ensure a free and fair election are a novelty.
"These measures have been taken to ensure that, at the end of the exercise, every contestant will be satisfied that he had won or lost fairly and, therefore, have no reason not to accept the result."
Peter Mac Manu, NPP National Chairman, stated the above yesterday when he addressed the media on the detailed preparation and arrangements that the party has put in place for a successful congress.
He describes Saturday's congress as hi-tech and that any person who does not have proper accreditation would not be allowed to enter the defined parameter designated a security zone for the congress scheduled to take place at the forecourt of the Great Hall, University of Ghana, Legon.
However, party supporters and well wishers who will be kept outside the security zone will have the opportunity to watch the event live on large screens that will be mounted.
The delegates, invited political parties, diplomatic corps, guests, observers, party officials and the media practitioners will have to go thorough security checks and screening even though they might have their accreditation.
Identity cards with security codes have been secured for those who qualify to enter the demarcated security area. But they can only go out three times, after which one can no longer enter the zone.
On the voting day, aspirants' symbols are not allowed into the voting area, there will be no campaigning, delegates are banned from using mobile phones and they are to remain seated until voting is completed.
Presidential aspirants and their agents are also banned from making calls whilst voting is ongoing.
According to the arrangements, all the delegates are expected to arrive at the International Hostel, near the congress venue, by 9pm on Friday, where the aspirants are free to have final interaction with them before voting commences at 9m the next day.
Mr Mac Manu noted that there has been vast improvement on the electoral process leading to the election of the party's flagbearer this time and pointed out that, so far none of the seventeen presidential aspirants has had cause to complain about the process.
"We in the NPP are confident that there shall be no rift after the elections. Our confidence is based on the fact that we believe in the intelligence of our candidates and trust in their integrity," he stated.
On petitions sent to NPP leadership by some constituencies, the NPP national chairman there had been misunderstanding in the selection procedure in about four constituencies but the party was working to resolve them.
By Nana Obeng-Danquah