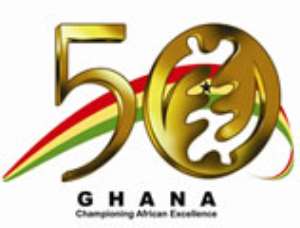 A famous saying goes like this: "A country which does not recognize her heroines is not worth dying for!"
In a few days time the year will come to an end and so will the celebrations of 50 years of nationhood of Ghana. We have witnessed the award of National Awards to some of Ghana's citizens. However, some observers feel that the contributions of women towards the building of our nation have not been recognized.
Where are our historians, writers, the media, the statisticians? We have witnessed National Award winners being honoured by the President of Ghana. The majority of the award winners were men, and the few women who were honoured were either Ministers of State or Members of Parliament. What about the many women from Ghana who risked their lives to serve their nation?
Let me refresh readers' minds - during the Nkrumah Regime, many were the women who worked hard to serve their nation and Nkrumah showed Ghana's gratitude to them by appointing some as ministers or entrusting them with responsibilities towards the development of their fellow women.
It is even rumored that when Nkrumah was overthrown by Kotoka and his team, and when later on Kotoka was killed, it was the women, mostly market women who untied the knots of money tied to their cloths, to give to the 'coup makers' for the funeral of Kotoka.
THE NURSES STRIKE ACTION IN 1979
During the SMC II – of General Akuffo – Ghanaian Nurses embarked on a nationwide strike action. Children and adults were dying in our hospitals. It took a group of brave women who organized the market women to go on demonstration on behalf of the nurses and presented a petition to General Akuffo to see to the needs of the nurses. Some of the placards read: "General Akuffo our children and mothers are dying", "General Akuffo – improve the conditions of our nurses", etc. etc.
The nurses at Korle-Bu Hospital and other hospitals went back to work on the 2nd of June 1979. On June 4th, there was a military coup d'etat and the first people Flt. Lt. J.J. Rawlings thanked, were the Ghana Registered Nurses – for going back to work.
Later on, when the market women were molested by some soldiers and the women refused to sell food in the markets, some women were invited (picked up) to meet Flt. Lt. Rawlings because they had previously organised the market food sellers – so they should put their heads together and organize the women to sell food to the public.
When in 1983 there was hunger in Ghana, which group of people fed the citizens of Ghana? The market women food sellers. When Makola was blown up, most of the market women lost huge sums of money, many were molested by the soldiers and a few died of shock etc. etc.
Have Ghanaians forgotten about our FLORENCE NIGHTINGALES? The nurses and midwives who operate homes and clinics? Have Ghanaians forgotten the Retired Senior Nursing Directors some whom operate orphanages all over the country? Ghanaians, especially Ghanaian politicians have very short memories indeed, and their situations are not made better by the media, writers and historians.
During these 50 years, we have had several women who can even be given the title of "YAA ASANTEWA". It should not be left too late to honour women who have risen to the status previously occupied by men. Imagine my surprise when I met two very important women recently. One was Head Post Mistress of Accra North Post Office, and the other, Post Mistress of Adenta Post Office. What about female surgeons, gynaechologists and paediatricians who have worked for twenty to thirty years? The list is unending.
Something has to be done so that these women living or dead can be honoured before the next Republic which comes into being in 2009.
An Akan proverb says: "if you forget an item somewhere and you go back for it, it is not forbidden".
Until next time, have a wonderful Christmas!
Auntie Kate.