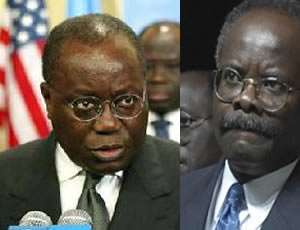 Probable successor to John Agyekum Kufuor's presidential seat, Nana Addo Dankwa Akufo-Addo, has congratulated the Convention People's Party for organizing a peaceful and generally successful national delegates congress.
The lead aspirant has further stated that he is comfortable with the party's election of Dr. Kwesi Nduom as the CPP's presidential candidate for an impending election he is seriously fighting to compete in.
"I'm comfortable with the CPP's election of Dr. Nduom because he is somebody I have known in government and at other fora as one who is capable and keenly committed to the advancement of our beloved country and its people."
Avoiding to be drawn into whether the CP.P. delegates' judgement was the best for the party or not, he underscored the fact that he was comfortable with Paa Kwesi Nduom and the fact that he could be an equally fine president for Ghana.
That, however, did not mean Nana Akufo-Addo was not convinced about his chances of winning the New Patriotic Party primary slated for the University of Ghana, this Saturday, and going on to annex the most coveted political office, President of the Republic.
Such is the conviction of Nana Akufo-Addo that, at a reception for senior media practitioners he hosted at his father's residence at Nima a suburb of Accra, yesterday afternoon, he redefined some of the policies that his New Vision for Ghana encapsulates.
Acknowledging the immense contribu¬tions that the local media have made towards his party's ascension to power and the accelerated growth of democracy in Ghana, he assured that Ghana under his leadership would have an even more lib¬eral society that accommodates diverse, even dissenting views in consensus build¬ing for national development.
"Though some people may disagree with you on issues of national interest, they may be having similar commitment to national development. Now that we have built a firm foundation for democracy, we move away from looking at those with dissent¬ing views as not belonging to us to a point where we get all views on board for na¬tional development," he said.
That pointed to a direction of enhancing tolerance of dissenting views and welcoming views from outside the NPP camp, following President Kufuor's novelty policy of appointing ministers, ambassadors and district chief executives known to belong to political parties opposed to the NPP in the struggle for political power.
"We must make people recognise that Ghana's public interest, anytime, is multifaceted and that we should compromise to take on board different shades of opinion," the Abuakwa M.P. said further to buttress his pledge.
His vision is Pan-Africanism, one thing that draws a semblance between him and the CPP's legendary Kwame Nkrumah. According to Nana Akufo-Addo, his vision is not only to transform Ghana from an agrarian, primary commodity exporter into a processor and industrialist; but also to develop that paradigm shift in such a way as to pilot the transformation of West Africa and the entire continent into a glo¬bal giant.
"I will try to push the interest of our dear continent" he underscored, assuring that his whole stewardship would be under the general directorship of the NPP, which would remain supreme.
Dilating on the paradigm shift critical for Ghana's, and indeed Africa's emancipation, the aspirant observed that the Kufuor administration had, fortunately, laid a solid foundation for such a monu¬mental drift that would transform the economy.
He occasionally intoned that he re¬mained a thoroughbred democrat, a "per¬son grounded four square in democracy" intending to enhance and push further Ghana's frontiers of good governance.
"Even my own colleagues in the NPP government have had cause, time and again, to blame me for making the 'mis¬take' of being instrumental in abolishing the criminal libel," he recalled, assuring however, that he had no regrets at all for expunging that obnoxious law.
If anything, he went on, his stewardship would further deepen press freedom that, he stressed, was only an extension of all individuals' right to freedom of speech; a right fundamental to the growth and wellbeing of every civil society in the modern world.