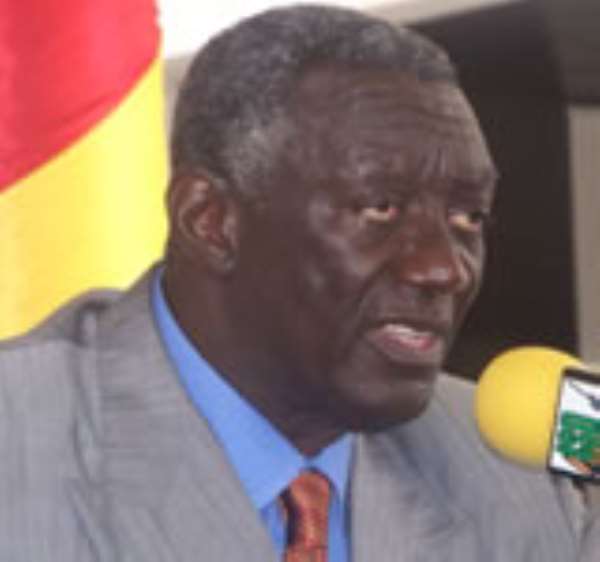 President John Agyekum Kufuor has said there was hope for Ghanaian children if only everybody would continue to support the government in the implementation of policies currently put in place for the nation's development.

He said, "With a politically stable atmosphere in the country, let us remember that the progress of every nation is its human resource and children are its vibrant source and society owes its children the responsibility of protection and development."

President Kufuor, who stated this in a speech read for him at the national children's Christmas party at Dunkwa-On-Offin on Tuesday, stressed the need to put children first in the decision making process by giving them assistance and support.

The party was attended by more than 1,000 pupils from selected schools in the Upper Denkyira and Lower Denkyira districts. Each child was given a Ghana @ 50 T-shirt, a cap and treated to music, cultural performances and also presented with packed lunch and soft drinks.

He said the government's commitment in human and financial resources to promote the growth and development of its young ones had been prominent and that it had set the pace for other stakeholders to complement government's efforts for the best interest of children.

"The relatively stable political atmosphere has enhanced a sustainable child development process. It is observed that during politically volatile situation, children and women bear the brunt of atrocities associated with such situations. We praise the Almighty God for the peace and tranquillity. He has granted this country so far to make it an oasis of peace in the sub-region," he said.

The President said apart from being the first country to ratify the U.N. Convention on the rights of the child, the government had created a ministry to improve the lot of women and the development of children.

President Kufuor said the various aspects of the educational reform programme, the capitation grant, school feeding programme and free city transportation for school children were all geared towards providing the needed environment for education and training of children.

He said in recognition of the importance of the holistic growth, protection and development of children, the Early Childhood Care and Development Policy (ECCD) was being implemented under the supervision of a national secretariat and stressed that it was anticipated that more collaborations would be galvanized to effectively implement Ghana's ECCD policy for the welfare of its young ones.

The President told the children that HIV/AIDS still posed a serious health and development problem and urged parents and guardians to intensify their efforts in the child upbringing process and also ensure that their children avoided risky behaviour.