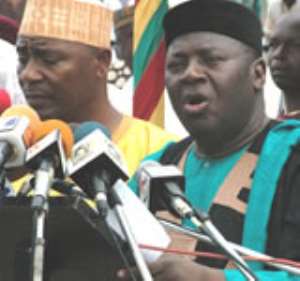 The Vice-President Alhaji Aliu Mahama on Wednesday joined thousands of Muslims to offer prayers at the celebration of this year's Muslim festival of Eid-UL-Adha at the Tamale Jubilee park.

Alhaji Mahama asked Muslim parents to place emphasis on secular education and said without that, the people of the Northern part of Ghana would continue to lag behind in development.

He said education could put them in key positions that could enable them to influence decision making towards accelerated development of the Northern part of the country.

Alhaji Mahama called on the Muslims to ensure that peace and unity prevailed and fight against poverty, disease and ignorance.

He asked the people of the Tamale Metropolis to ensure law and order and exhibit the usual Ghanaian hospitality to foreigners who would come into the country to participate in the African Cup of Nations in the country next year.

Alhaji Mahama also appealed to Muslims to offer special prayers for him to be elected to lead the New Patriotic Party in the 2008 Presidential Election.

He said he has been tested and tried under the able leadership of President John Agyekum Kufuor and it was now time for him to assume the mantle of leadership to move the country forward.