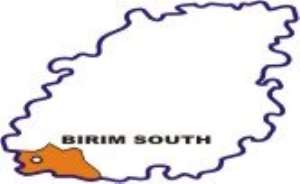 The leader of the Land Inventory Task Team Stephen Kumadoh has asked the District Assemblies to take legal action against those who encroach on government lands before the situation gets out of hand. He said this at the end of a workshop on inventory of State Acquired and occupied lands at Akyem Oda in the Birim South District.
The series of workshops organised in four District namely Manya and Yilo Krobo, Suhum Kraboa Coaltar and the Birim South discussed land tenure system and the legal and proper means of acquiring lands for development. Mr. Kumadoh said anybody found on government lands meant for would face the full rigours of the law. He therefore appealed to individuals who are involved in such acts to desist from them.
The Presiding Member of the Assembly, Kwasi Amoah asked the lands commission to come out with a proper layout to avoid encroachment.
Earlier at Suhum, the District Chief Executive, Michael Kofi Mensah suggested to the land's commission to educate the public through the media in order to reach more people.
He said this would put an end to encroachment and indiscipline in the use of lands. The DCE asked area councils and other constituencies that need land to consult the District Assembly to find lands for their projects.
He asked the participants to register their lands with the appropriate agencies and keep records on land documents. Some of the complaints raised by the participants include the delay in the registration process of land and the high cost of registration.
The Director of Land Administration projects, Dr. Odame Larbi in a reaction to concerns raised by participants said the delay in the registration process of land depends on the nature of the land. He said family and government lands would be dealt with differently and this is to be done within three months.