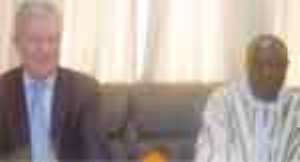 THE MINISTER of State in Charge of Transportation, Godfrey Tangu Bayon has called for a review of toll fees being charged at the various toll centres in the country.
According to him, this call was to augment the budget and donor support for the sector.
He said the current budget allocated to the sector was inadequate to meet the increasing demand for road construction in the country, adding that there was the need to take a serious look at the fees as a way of addressing the difficulties facing the transport sector.
Mr. Bayon made the call when the Danish Ambassador, Flemming Bjoerk Pedersen, together with other officials, paid a courtesy call on him.
The Minister said road maintenance and rehabilitation were vital and that there was the need to look at possible ways of generating additional funds for that.
He said the Transport Sector Programme Support (TSPS1) which was part of the road sector development programme, was aimed at addressing the network deterioration and accessibility to major producing and consuming areas in the country.
Mr. Bayon said the country was in the process of doing proper axle load control to ensure that long vehicles did not pose a threat and cause damage to the roads.
He said Denmark had over the years supported the road sector in Ghana and commended the Danish government for assisting the country in other areas.
The Minister however pleaded with DANIDA to reconsider its decision not to finance trunk road activities in the future, stressing the need for a linkage between the farming areas and market centres.
The Danish Under Secretary Ambassador for Bilateral Cooperation, Carstein Nilaus applauded Ghana's traffic safety records saying that demonstrated the seriousness of government.
Ambassador Nilaus said his country was in the process of reviewing its activities in Ghana and also looking at the possibility of increasing funds allocated to the road sector in the country from 320 million to about 400 million Danish Kroner (DKK).
He promised Denmark's continued support for further feeder roads expansion, maintaining that road maintenance was crucial for its sustainability.
By Abubakar Salifu